'The Revenant' Images: Alejandro González Iñárritu Sends Leonardo DiCaprio Into The Wild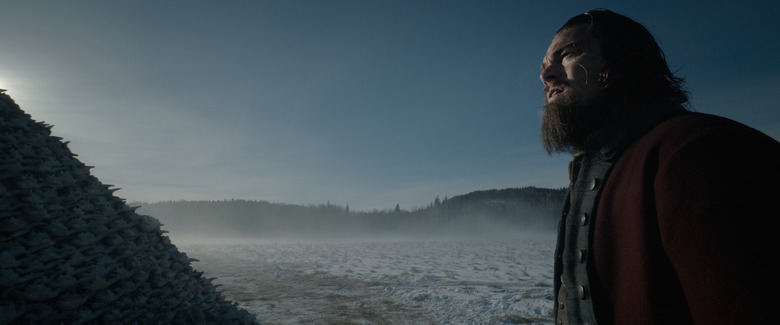 Alejandro González Iñárritu's The Revenant has been plagued by reports of ballooning budgets, scheduling delays, safety concerns, weather woes, producer drama, and disgruntled crew members. One anonymous individual went so far as to call the shoot "a living hell."
But while the film may be a mess behind the scenes, it thankfully looks quite lovely on camera. A new batch of stills offer a better look at this beautiful film, accompanied by some new details about the story. See the new The Revenant images after the jump.
Yahoo debuted the new The Revenant images.
The Revenant concerns a 19th century fur trapper named Hugh Glass, played by Leonardo DiCaprio. After he's mauled by a bear, his hunting team leaves him for dead. But Glass is still very much alive, and vows revenge on the men who abandoned him (including John Fitzgerald, played by Tom Hardy).
Iñárritu and cinematographer Emmanuel Lubezki famously insisted on using only natural light for The Revenant, which meant they were usually shooting between 5:30 PM and 7:30 PM. Not even kerosene lanterns could be used, because they hadn't been invented yet. "We'd be scrambling at the end of the day to film the last few hours of daylight," recalls production designer Jack Fisk.
While The Revenant is based on a novel by Michael Punke, Iñárritu added his own touches to the story, such as Glass' son "He didn't worry about religiously doing the story," said Fisk of Iñárritu.
The Revenant is out December 25, 2015. Domhnall Gleeson and Will Poulter also star. The Pawnee Indian woman pictured above is played by Grace Dove Syme.
Inspired by true events, THE REVENANT is an immersive and visceral cinematic experience capturing one man's epic adventure of survival and the extraordinary power of the human spirit. In an expedition of the uncharted American wilderness, legendary explorer Hugh Glass (Leonardo DiCaprio) is brutally attacked by a bear and left for dead by members of his own hunting team. In a quest to survive, Glass endures unimaginable grief as well as the betrayal of his confidant John Fitzgerald (Tom Hardy). Guided by sheer will and the love of his family, Glass must navigate a vicious winter in a relentless pursuit to live and find redemption. THE REVENANT is directed and co-written by renowned filmmaker, Academy Award® winner Alejandro G. Iñárritu (Birdman, Babel).