'Avengers: Age Of Ultron' Deleted Scene Sends Thor Into The Cave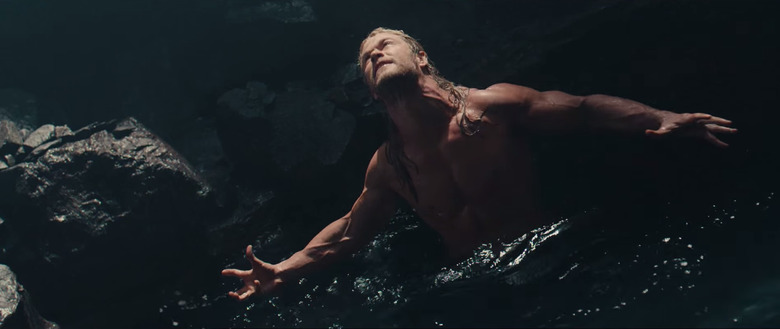 One of the biggest victims of Avengers: Age of Ultron's overstuffed narrative was Thor. The god disappeared into a seemingly out-of-nowhere side quest that didn't raise a whole lot of interest or make a whole lot of sense, raising the question of why the film bothered giving him a subplot at all.
The answer, as you may have already read, is that Thor was originally supposed to have a much meatier subplot to himself. Unfortunately, with the film threatening to go over the three-hour mark, something had to get cut, and that something was Thor. But thanks to the film's upcoming Blu-ray release, we can finally see what we was missing in the film. Watch the Avengers Age of Ultron Thor deleted scene after the jump. 
Marvel unveiled the Avengers Age of Ultron Thor deleted scene ahead of the film's Blu-ray premiere.
In an interview around the time of Avengers: Age of Ultron's release, Whedon explained why the scene above got cut.
There was a 195-minute cut of this movie. The original scene was that Thor went to speak to the Norn and how it would work was that he'd go in the pool and the Norn possess him, basically, and Erik Selvig asks all the questions, and the Norn, speaking through Thor, give the answers. So Chris [Hemsworth] got to do something different, and he really threw himself into it, and he did a beautiful job, but it wasn't well regarded by the test audiences and I feel it's probably largely because it was a rough cut with no effects, but also because it's something that in a Thor movie would work brilliantly, but in this movie is just a little too left of centre.
It's a weird, fantastical scene, but it's an improvement on the version we got, in which Thor just has a vision involving Infinity Stones and then returns to tell the Avengers about it. There's still some material missing — a Loki cameo, that mystery woman – but Thor's role in the movie is starting to make more sense.
Avengers: Age of Ultron is available on Digital HD now, and will hit Blu-ray October 2.
Marvel Studios presents "Avengers: Age of Ultron," the epic follow-up to the biggest Super Hero movie of all time. When Tony Stark tries to jumpstart a dormant peacekeeping program, things go awry and Earth's Mightiest Heroes, including Iron Man, Captain America, Thor, The Incredible Hulk, Black Widow and Hawkeye, are put to the ultimate test as the fate of the planet hangs in the balance. As the villainous Ultron emerges, it is up to The Avengers to stop him from enacting his terrible plans, and soon uneasy alliances and unexpected action pave the way for an epic and unique global adventure.
Marvel's "Avengers: Age of Ultron" stars Robert Downey Jr., who returns as Iron Man, along with Chris Hemsworth as Thor, Mark Ruffalo as Hulk and Chris Evans as Captain America. Together with Scarlett Johansson as Black Widow and Jeremy Renner as Hawkeye, and with the additional support of Don Cheadle as James Rhodes/War Machine, Cobie Smulders as Agent Maria Hill, Stellan Skarsgård as Erik Selvig and Samuel L. Jackson as Nick Fury, the team must reassemble to defeat James Spader as Ultron, a terrifying technological villain hell-bent on human extinction. Along the way, they confront two mysterious and powerful newcomers, Pietro Maximoff, played by Aaron Taylor-Johnson, and Wanda Maximoff, played by Elizabeth Olsen and meet an old friend in a new form when Paul Bettany becomes Vision. Written and directed by Joss Whedon and produced by Kevin Feige, p.g.a., Marvel's "Avengers: Age of Ultron" is based on the ever-popular Marvel comic book series "The Avengers," first published in 1963. Louis D'Esposito, Alan Fine, Victoria Alonso, Jeremy Latcham, Patricia Whitcher, Stan Lee and Jon Favreau serve as executive producers.