Listen To Sam Smith's Bond Theme For 'Spectre', "Writing's On The Wall"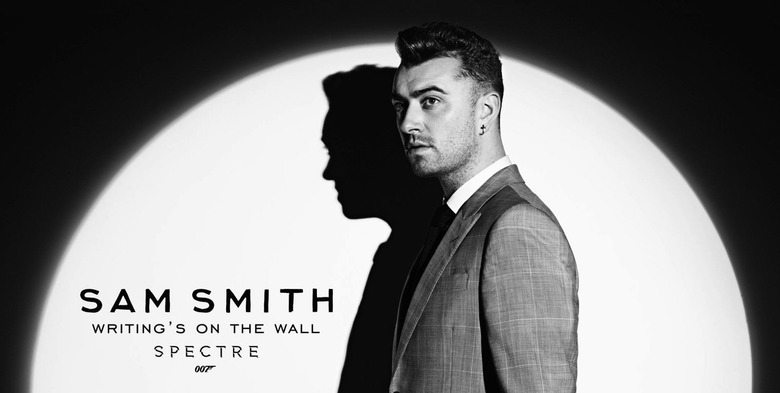 James Bond's next adventure won't hit theaters for another several weeks, but his new theme song is out today. First announced earlier this month, Sam Smith's theme for Spectre, "Writing's on the Wall" has just hit the web. Listen to it after the jump. 
Click below to listen to Spectre's Sam Smith Bond theme, "Writing's on the Wall."
Smith was officially announced as the new Bond theme singer just a few weeks ago, after months of speculation. But Smith's been dreaming of this moment for a lot longer than that. According to NPR's Morning Edition, Smith's campaign to record the next Bond theme began with an email to his agent — subject line "007" — two years ago.
The musician also spoke a bit about the idea behind the soulful new tune:
I tried to put myself in the shoes of Bond. My music is a diary and it's a recap of my life, and I wanted to bring that kind of honesty. In the lyrics — "How do I live, how do I breathe? / When you're not here I'm suffocating" — I wanted a touch of vulnerability from Bond, where you see into his heart a little bit.
"Writing's on the Wall" is available now on iTunes. Spectre hits theaters November 6, 2015. What do you think of the new Bond theme?
A cryptic message from the past sends James Bond (Daniel Craig) on a rogue mission to Mexico City and eventually Rome, where he meets Lucia Sciarra (Monica Bellucci), the beautiful and forbidden widow of an infamous criminal. Bond infiltrates a secret meeting and uncovers the existence of the sinister organisation known as SPECTRE.
Meanwhile back in London, Max Denbigh (Andrew Scott), the new head of the Centre for National Security, questions Bond's actions and challenges the relevance of MI6, led by M (Ralph Fiennes). Bond covertly enlists Moneypenny (Naomie Harris) and Q (Ben Whishaw) to help him seek out Madeleine Swann (Lea Seydoux), the daughter of his old nemesis Mr White (Jesper Christensen), who may hold the clue to untangling the web of SPECTRE. As the daughter of an assassin, she understands Bond in a way most others cannot.
As Bond ventures towards the heart of SPECTRE, he learns of a chilling connection between himself and the enemy he seeks, played by Christoph Waltz.