Star Wars Construction To Close Popular Disneyland Attractions For A Year, "Season Of The Force" Details Revealed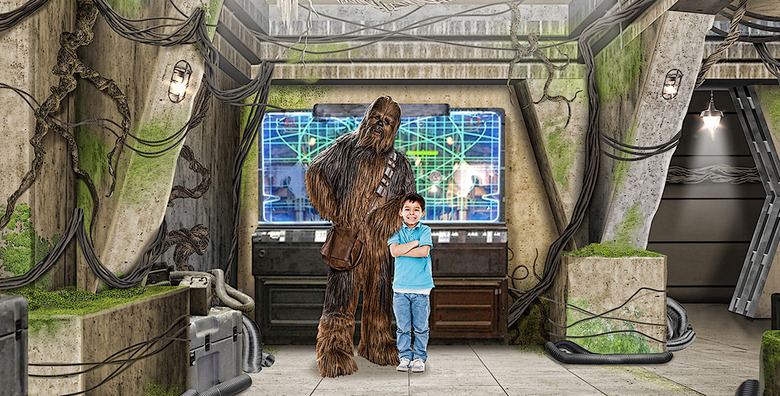 At D23 Expo 2015, Bob Iger announced that Disney would be building Star Wars-themed lands in Disneyland and Disney World. And before that happens in a few years (date to be announced), Disney also announced they would expand the Star Wars presence in both Disney World and Disneyland this year. Well we now have some new information about Star Wars land construction and the "Season of the Force" which is set to begin in just a couple months. Hit the jump to learn more about all the Star Wars Disneyland news.
Star Wars Disneyland Construction Will Close Popular Attractions Beginning January 11th 2016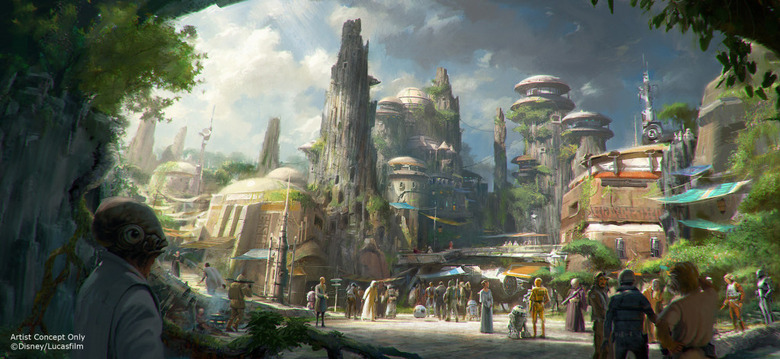 First up, lets talk about Star Wars Land. We've already told you everything there is to know about Star Wars Land thus far — we had heard that construction would begin in 2016, which we assumed meant mid to late next year but it turns out to be much sooner than that. Disneyland has made the following announcement:
Work to make room for this new land at Disneyland park in California will require the Rivers of America and the Disneyland Railroad to close temporarily. The following will suspend operations at the end of the operating day on January 10: 

The Disneyland Railroad, including all stations, 

Attractions along the Rivers of America, including: 

"Fantasmic!", 

Mark Twain Riverboat and Sailing Ship Columbia, 

Pirate's Lair on Tom, Sawyer Island, and Davy Crockett Explorer Canoes. We look forward to all of these attractions reopening in the future. Elsewhere in Frontierland, Big Thunder Ranch – including Big Thunder Ranch Barbecue, Big Thunder Ranch Petting Farm and Big Thunder Ranch Jamboree – will close permanently at the end of the operating day on January 10.
This seems to confirm that construction will begin in Disneyland park in January. But how long will the attractions be closed? Disney doesn't give an end date for these closures, but some in the know Disney insiders are claiming that it will last a year. Here is more info from PE.com:
The river will be partially drained and diverted to the Orange County Water District's Groundwater Replenishment system where it will be treated and stored, a Disneyland spokesman said. When the time comes to refill the rivers, Disney will replenish from the same system. Disneyland officials said work is expected to take a year, but did not set a date for when the attractions will return to action. Affected cast members will be offered other roles during the closures.
Season Of The Force Begins November 16th 2015
Also announced at D23 Expo 2015 was "Season of the Force," a brand new seasonal Star Wars event coming to Disneyland and Disney World "in early 2016." Well it looks like it will be happening before then as Disney has confirmed that the Season of the Force will begin on November 16th 2015. Here are the details: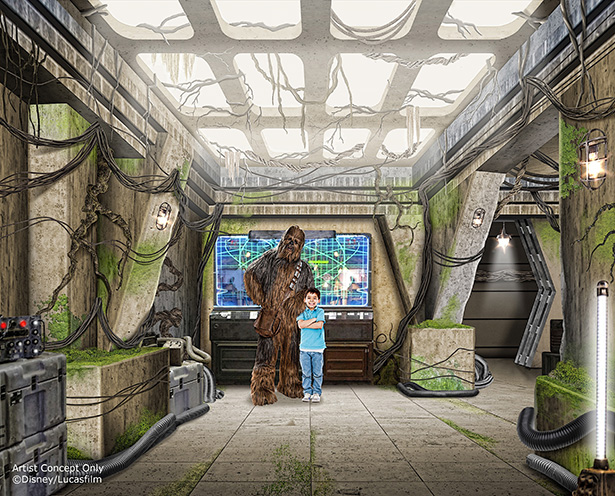 Star Wars Launch Bay will open in Innoventions, offering park guests "opportunities to visit with favorite Star Wars characters, special exhibits, peeks at the upcoming Star Wars: The Force Awakens and much more."
Guests will be able to "choose between the Dark Side and Darth Vader himself or the Light Side, where Chewbacca will be on hand for a wookiee greeting. The Dark Side Gallery will showcase stormtrooper armor and Sith lightsabers, while the Light Side Gallery will feature Rebel flight helmets and the lightsabers of Jedi Knights. Props from the upcoming film, Star Wars: The Force Awakens will be on display in the Preview Gallery, famous starships and their pilots from throughout the Star Wars saga will be docked in the Starship Gallery, and you can play the latest games from the Star Wars galaxy, including Disney Infinity 3.0 in the Star Wars Game Center."
Star Tours – The Adventures Continue will be updated with "a new scene inspired by the upcoming film, Star Wars: The Force Awakens." No details have been revealed about this new scene but we're guessing it probably takes place on the new planet of Jakku.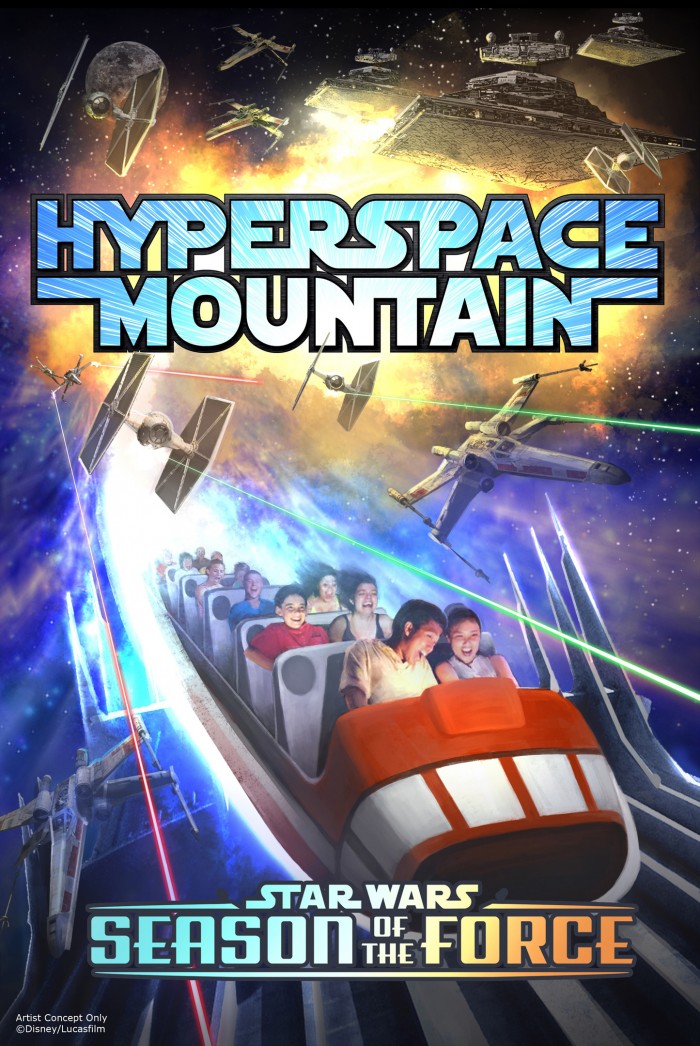 Hyperspace Mountain will replace Space Mountain for a limited time, offering guests a chance to "join an X-wing starfighter battle."We've been told that much like Space Mountain's Halloween version Ghost Galaxy, Hyperspace Mountain will include music and projections, but from a galaxy far far away.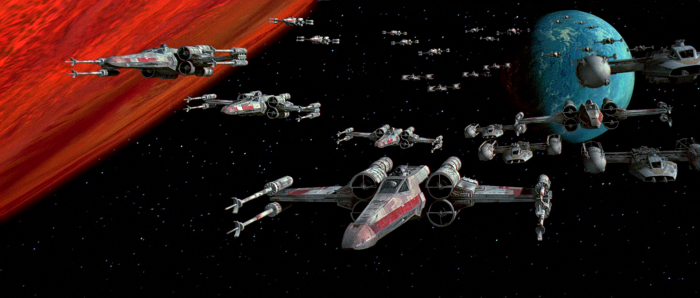 Tomorrowland Theater (formerly Magic Eye Theater aka Captain EO Theater) will be playing "favorite scenes from classic Star Wars films." I had been told that a Star Wars: The Force Awakens preview would run in the space — either that has been scrapped or will be added at a later time closer to the December release of Episode VII.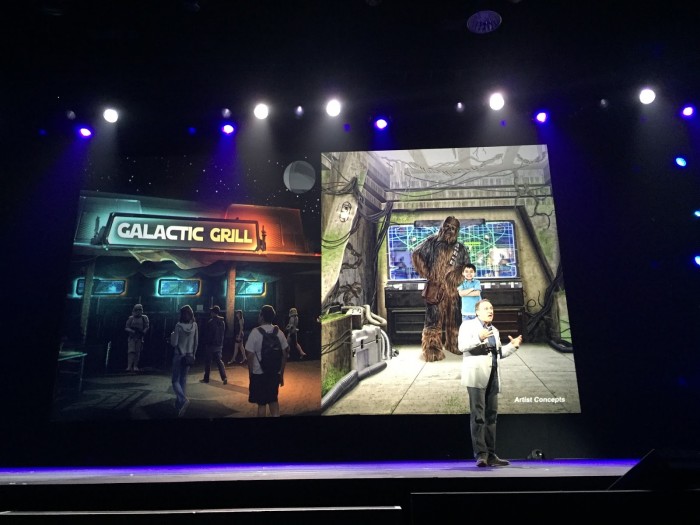 The "Season of the Force" event will also feature "special themed food and beverage, merchandise and entertainment," although they haven't revealed what any of that is yet.
And coming in December (TBA) will be a new version of the Jedi Training Academy show titled Jedi Training: Trials of the Temple which will "introduce new characters and a new villain from the popular Disney XD series, Star Wars Rebels." We've heard that new Jedi recruits will battle the evil Inquisitor. Not as cool as Darth Maul or Darth Vader.
Interestingly, Disney is not yet revealing an opening date for Star Wars Launch Bay and Season of the Force in Florida.