New 'Men In Black' Trilogy In The Works Without Will Smith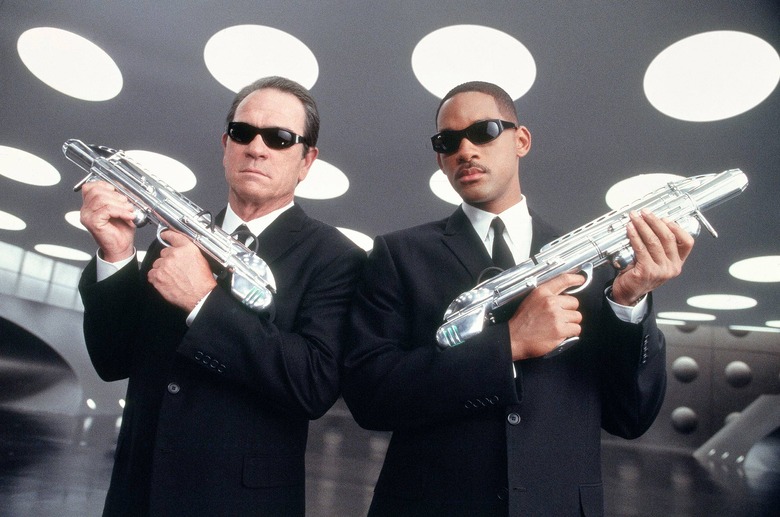 Sony clearly wants to bring back the Men in Black franchise, but star Will Smith doesn't seem terribly interested. So the studio is taking a page out of Fox's Independence Day playbook and moving on without him. Producers Walter Parkes and Laurie MacDonald have confirmed "very active" plans for a "reinvented" Men in Black trilogy, likely without Smith.
Read Parkes and MacDonald's comments on the new Men in Black trilogy after the jump. 
Parkes and MacDonald slipped in the new Men in Black trilogy news during a long interview with THR to promote, among other things, He Named Me Malala. Here's the pertinent exchange:
You produced Men in Black. Has there been talk of reviving that franchise with the new Sony regime?
PARKES We're in the middle of it. It's very active.Is Will Smith going to be part of it?PARKES Most likely no.MACDONALD It will be reinvented as a trilogy.
Parkes and MacDonald have produced all three Men in Black films to date, as well as the animated series that aired on The WB for four seasons. If anyone would know about plans to resurrect the Men in Black franchise, it's them.
It took ten years to get from Men in Black II to Men in Black 3, which opened in 2012. Although it was a commercial success, grossing $624 million worldwide, plans to make a Men in Black 4 haven't panned out. Not that its star seems all that bummed about it. In 2013, Smith downplayed the possibility of returning for MIB4, saying "Three of anything is enough for me."
Last we heard, Sony was thinking of keeping the series going with a Jump Street crossover. It's unclear whether that's still the case, or whether Parkes and MacDonald's new plans supersede crossover plans. No casting, director, or writers have been announced for the new Men in Black trilogy.