Exclusive: 'The Rocketeer' Poster Debuting At MondoCon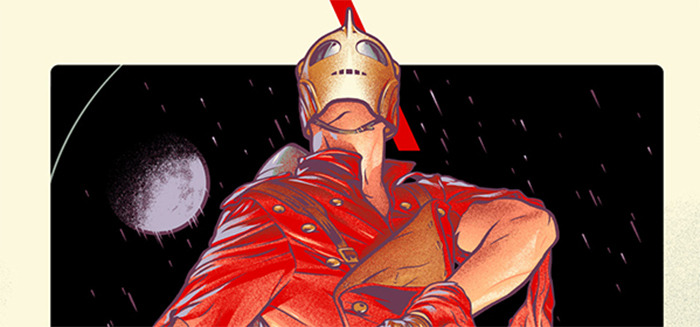 The second MondoCon begins in just over a week, following immediately on the heels of Fantastic Fest. When MondoCon 2015 kicks goes down on October 3 and 4 at the Marchesa Hall & Theater in Austin, TX, one of the prints available will be a dramatic art deco-styled poster for The Rocketeer, from artist Martin Ansin. Check out both the regular and variant Rocketeer MondoCon posters below.
Here are the details, though we don't have pricing for either version of this print just yet:
The Rocketeer
Artist: Martin Ansin
Size: 24" x 36"
Edition of 400 (reg), 200 (variant)
This is just one of many prints that will debut at the Con. Here's a rundown of all the other stuff happening on those two days in Austin.
Mondo Talk
Mondo Creative Directors discuss the creative process behind Mondo's work, showing how the team works with artists to arrive at final images. The panel will include a presentation of alternate concepts and a look at some of the biggest releases of the year.
The Art of Toys and Collectibles
A behind-the-scenes look at the Mondo collectibles line with Creative Director of Toys/Collectibles Brock Otterbacher & a number of special guests. This panel will give fans a look into the toy making process along with a few upcoming release teases!
Pop-Up Record Shop
Continuing in the tradition of this year's Audyssey pop-up shop, Mondo & Death Waltz Recording Co. are pleased to present the premiere destination for indie soundtrack labels to interact directly with their fans. We have returning favorites from last year as well as some amazing newcomers. We will be carrying selections of our favorite titles from our friends at Data Discs, Tiger Lab, Milan, Light In The Attic, One Way Static,?Waxwork Records,?Terrorvision Records,?Lunaris Records, Monster Worship,?Ship To Shore Records,?Strange Disc and more!
William Stout Career Retrospective
MondoCon welcomes back the legendary William Stout for a look into his incredible career, which includes design work on over 35 feature films – both Conan the Barbarian films, The Hitcher, Invaders From Mars, First Blood and Return of the Living Dead. This panel will include a myriad of artwork & illustrations from over the years and never-before-told stories about Stout's time in the industry.
Underscore: A Soundtrack Panel
Record Label Manager Spencer Hickman & Production Manager Mo Shafeek discuss the creative process behind Mondo & Death Waltz's soundtrack releases. The panel will also include insight into the production process of Vinyl manufacturing for independent labels. Featuring special guest panelists from various other soundtrack labels, distribution and authorities of the medium, as well as announcements and artwork reveals of forthcoming soundtrack releases.
VACVVM Artist Panel
Members of the illustration collective THE VACVVM discuss the advantages of working with each other, the synergy of a collaborative artistic environment and share information about projects past and future.
Umberto 'Pieces' Live Score Event
Grindhouse in conjunction with Death Waltz Recording Company presents UMBERTO – Pieces Live Re-Score
In 2012 Matt Hill (Umberto) was commissioned by the Glasgow Film Festival to re-score the 1982 splatter film PIECES and perform it live. The re-score was eventually released on vinyl and CD with the title The Night Has A Thousand Screams and has only ever been performed again at Beyond Fest in 2013...
UNTIL NOW! To celebrate Grindhouse releasing PIECES on Blu-ray, we are stoked to bring Matt out to MondoCon to perform his re-score to PIECES for one final time. If you haven't seen the film, you're in for a treat. PIECES is one of the most outrageous and legendary of all the low budget 80's splatter films; it's over the top in every department, each scene more ridiculous than the last. To see it with a crowd is the best way to truly experience it. Every attendee at the screening will receive a FREE exclusive color way of a new Umberto 7' due on the Death Waltz jukebox series featuring two brand new unreleased tracks. We'll also have copies of the Rock Action LP. Matt will be signing after the performance.
Toy Masters Documentary (Free Daytime Screening)
When two friends attempt to discover who created their favorite childhood action figure, they end up uncovering a heated battle for credit that's lasted 30 years and is filled with more colorful characters than any toy store aisle. Filmmakers Roger Lay, Jr. and Corey Landis set out to document the origin of He-Man–the central character in a billion-dollar multi-media franchise–and along the way, they begin to realize that the truth may not be as simple as they'd hoped. Join them as they go from interview to interview of conflicting stories about how it all began–and try to figure out who's lying and who's telling the truth–in this fun, informative doc that plays like the 'King Of Kong' of the toy world.
Live mural painting by Sam Wolfe Connelly
Sam Wolfe Connelly will be creating a live mural throughout MondoCon to give a fascinating look into the artistic process!
Adventures In Design MondoCon Lounge
Sit in as Mark Brickey, host of the hit podcast Adventures in Design, interviews MondoCon artists and guests. Brickey will be taking over the second panel room for a full schedule of interviews throughout both days of the convention.
Artists & Exhibitors In Attendance
Check out the new additions and full list of special guests at MondoCon!
Florian Bertmer, Hi-Def Ninja, Kevin Tong, Mike Saputo, Stan & Vince, William Stout, NC Winters, Matthew Woodson, Martin Ansin; Oliver Barrett; Richey Beckett; Andy Belanger; Burlesque of North America; Scott C; Becky Cloonan; Daniel Danger; Draplin Design Co.; The Dude Designs; Jason Edmiston; Brian Ewing; Francesco Francavilla; Ken Garduno; JJ Harrison; Tom Haubrick; Jock; Rob Jones; Landland; Middle of Beyond; Mike Mitchell; Olly Moss; Ciro Nieli; Randy Ortiz; Phantom City Creative; Gary Pullin; Dave Rapoza; JC Richard; Rockin' Jelly Bean; Arik Roper; Todd Slater; Static Medium; Ken Taylor; Matt Taylor; Unbox Industries; The Vacvvm; Waxwork Records; Bernie Wrightson; WBYK
Mondo Preview
Mondo will have several new items for sale at MondoCon including the Army Of Darkness Original Motion Picture Soundtrack on vinyl and a MondoCon exclusive variant of the "Lil Mikey" collectible figure. MondoCon will also feature new poster premieres from Ken Taylor, Martin Ansin, Kevin Tong, Aaron Horkey, Tom Whalen & more!