Michael Shannon And Jeff Nichols To Reunite For 'Loving'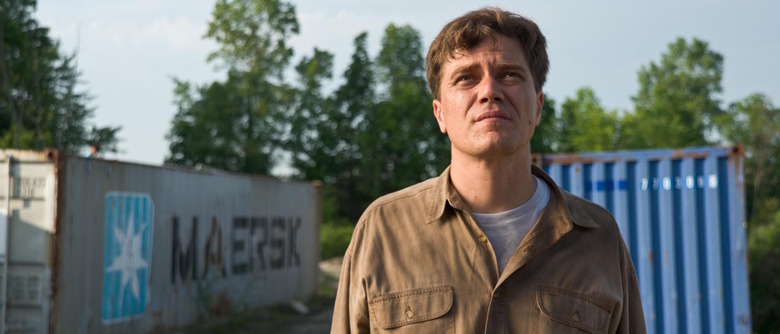 Jeff Nichols has cast Michael Shannon in every one of his films so far, and that streak will continue with Nichols' next project. Shannon is set to join Nichols' interracial marriage drama Loving, starring Joel Edgerton and Ruth Negga. Nick Kroll, Jon Bass, Marton Csokas, and Bill Camp will also appear. Get details on the Michael Shannon Loving casting after the jump. TheWrap reported the new Loving casting. Here's the official synopsis for Loving:
Richard and Mildred Loving were married in June of 1958. As a result, authorities broke into their home, arrested them, and they were sentenced to a year in the state penitentiary. This sentence was suspended on the condition that they be exiled from the state of Virginia. Richard and Mildred would spend the next nine years fighting to get home. All of this, because Richard was a white man and Mildred a black woman. LOVING is a story about marrying the one you want and finding the one you need.
You may be familiar with the Lovings' story from the landmark Supreme Court case Loving v. Virginia, which invalidated all anti-miscegenation laws in the U.S. in 1967. (Uh, spoiler alert, sorry.) The case was recently cited as precedent in Obergefell v. Hodges, which legalized same-sex marriage across the U.S. earlier this year.
Edgerton and Negga will lead the cast as Richard and Mildred Loving. Shannon will portray Grey Villet, the LIFE magazine photographer who shot iconic images of the Lovings in 1965. Kroll and Bass will play Bernie Cohen and Phil Hirschkop, the Lovings' lawyers; Csokas is Brooks, the sheriff who arrested the Lovings; and Camp will play Frank Beazley.
Loving will be Shannon and Nichols' fifth film together. Their fourth, Midnight Special also starred Edgerton and Camp and is scheduled to arrive in theaters later this year.
Nichols' Loving is inspired by Nancy Buirski's 2012 HBO documentary The Loving Story. Buirski is producing along with Sarah Green, Colin Firth, Ged Doherty, Peter Saraf, and Marc Turtletaub. Brian Kavanaugh-Jones, Jack Turner, and Jared Ian Goldman serve as executive producers.
Shooting on Loving began earlier this week in Virginia. Said Firth: "The words 'commencing principal photography' and the name Jeff Nichols make my head spin. I've dreamt of making this movie for years and I am thrilled it's come to life with this amazing cast." No release date has been announced.