'The Big Short' Trailer: Christian Bale, Brad Pitt, Ryan Gosling, And Steve Carell Bet Against The Banks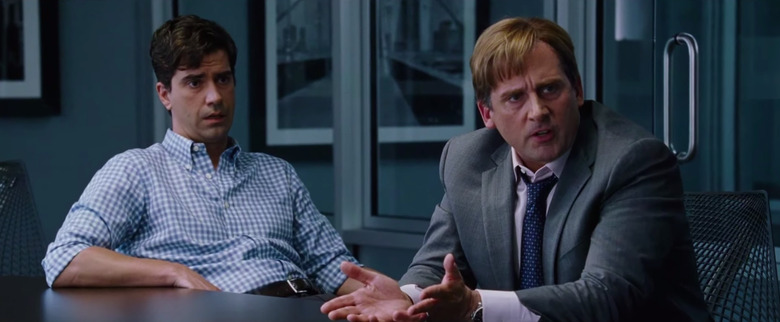 Star-studded ensemble prestige dramas might be to the fall season what superhero movies are to the summer one. Following Black Mass and ahead of The Martian comes the first trailer for The Big Short, starring Christian Bale, Steve Carell, Brad Pitt, and Ryan Gosling as four men who bet against the banks ahead of the 2008 financial crisis.
The Big Short is the first drama by Adam McKay, better known for comedies like Anchorman, Step Brothers, and The Other Guys. McKay and Charles Randolph (Love & Other Drugs) wrote the screenplay based on the nonfiction book by Michael Lewis (Moneyball). Watch The Big Short trailer after the jump. 
Paramount Pictures debuted The Big Short trailer on YouTube.
Although The Big Short shot earlier this year, we weren't expecting to see the film until 2016 or so. According to Deadline, however, that all changed when the studio saw and were impressed by McKay's near-complete cut of the film. The Big Short is now being positioned as one of Paramount's contenders for the coming Oscar race.
The Big Short will make its world premiere November 12 as the closing night selection of the AFI FEST 2015 presented by Audi. It'll then jump into the crowded year-end fray with a limited release starting December 11 and a nationwide rollout starting December 23. Melissa Leo, Marisa Tomei, and Karen Gillen also star.
When four outsiders saw what the big banks, media and government refused to, the global collapse of the economy, they had an idea: The Big Short. Their bold investment leads them into the dark underbelly of modern banking where they must question everyone and everything. Based on the true story and best-selling book by Michael Lewis (The Blind Side, Moneyball), and directed by Adam Mckay (Anchorman, Step Brothers) The Big Short stars Christian Bale, Steve Carell, Ryan Gosling and Brad Pitt.