'Nasty Baby' Trailer: Kristen Wiig's Sundance Drama Takes A Turn For The Bizarre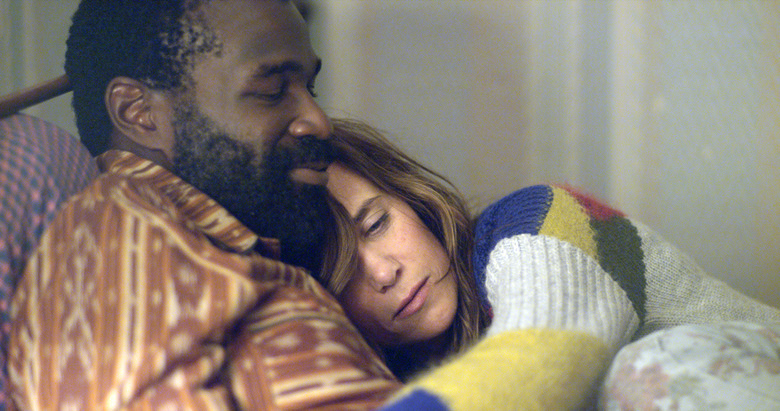 At first, Nasty Baby looks like a pretty typical Sundance indie. Kristen Wiig stars as a woman trying to get pregnant with the help of her best friends, gay couple Freddy (Sebastián Silva) and Mo (Tunde Adebimpe) in Fort Greene, Brooklyn. There's some raunchy banter, some interpersonal tension, a self-consciously quirky cast, and the usual themes of friendship, family, and growing up.
But Silva, who also directed, isn't really interested in being typical. He likes the dark and unexpected, as he's shown in films like The Maid, Crystal Fairy & the Magical Cactus, and Magic Magic, and now in the first Nasty Baby trailer. By the end, Nasty Baby starts to feel like a horror film, even if it's not exactly clear what we're supposed to be afraid of. Watch the Nasty Baby trailer after the jump. 
Distributor The Orchard shared the first Nasty Baby trailer on YouTube.
Nasty Baby gets a limited theatrical release starting October 23, then hits VOD and iTunes October 30. Alia Shawkat, Mark Margolis, and Reg E. Cathey also star.
Nasty Baby, centers around a Brooklyn couple, Freddy (Sebastian Silva) and his boyfriend Mo (Tunde Adebimpe) who are trying to have a baby with the help of their best friend, Polly (Kristen Wiig). Freddy is an artist, and his latest work is all about babies – it's clear he's dying to be a father. Polly is a family practitioner who is more interested in having a baby than having a man. Mo is hesitant about the entire idea, especially when Polly isn't having success with Freddy?s sperm and the donor responsibility shifts to him. Set almost entirely in the multicultural vibrancy of Fort Greene, Brooklyn, the trio navigates the idea of creating life, when they are confronted by unexpected harassment from particularly aggressive neighborhood man, nicknamed The Bishop (Reg E. Cathey). The Bishop is bothersome in small, yet persistent ways, with a hint of danger. As their clashes become increasingly aggressive, someone is bound to get hurt.