'Twin Peaks' Adds Amanda Seyfried And Balthazar Getty In Mystery Roles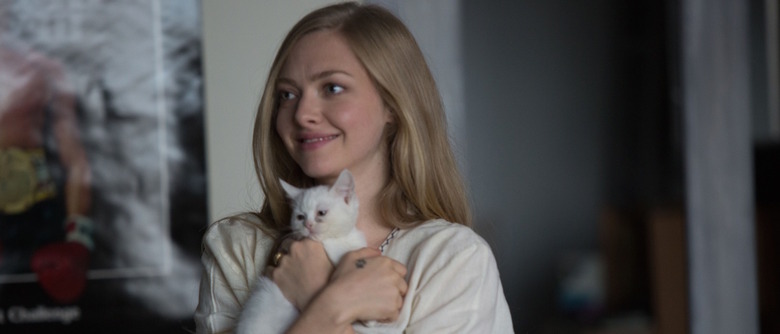 Two more are entering Twin Peaks. Amanda Seyfried and Balthazar Getty have just signed on for Showtime's revival of the '90s mystery series, joining returning star Kyle MacLachlan. Get details on the Twin Peaks Amanda Seyfried and Balthazar Getty casting after the jump.
Details on Seyfried's character are being kept under wraps, but she's described as a "major" character who serves "pivotal" role in the narrative. TV Line, who broke the Twin Peaks Amanda Seyfried casting news, speculates she'll play Dale Cooper and Annie Blackburn's daughter. Whoever the mystery character is, she's set to appear in multiple episodes.
No info has been revealed on Getty's character, either. However, TV Line notes it's possible he won't play a new character, but take over an existing role. Getty and Seyfried are the first new actors revealed to be part of the Twin Peaks cast. Besides MacLachlan, Sheryl Lee, Dana Ashbrook, and possibly Sherilyn Fenn are also expected to return.
Twin Peaks co-creators David Lynch and Mark Frost are writing the entire new season, and Lynch will direct all the episodes. Angelo Badalamenti will provide the music. Although the initial announcement from Showtime promised nine episodes, the total is expected to be more than that – perhaps as many as 18, according to some reports. Shooting is already underway in Washington State.
Seyfried got her start in television, appearing on soap operas As the World Turns and All My Children as a teenager. She's had recurring roles on Wildfire and Veronica Mars, and was a series regular on HBO's Big Love. Twin Peaks will be her first return to television since Big Love ended in 2011.
Getty's TV credits include a regular role on Brothers & Sisters, Alias, and Pasadena, and a recurring role in Charmed. He previously worked with Lynch on the 1997 thriller Lost Highway.
Twin Peaks will return to Showtime in 2016, marking the 25th anniversary of its debut.