Keanu Reeves May Drive To Win In China-Set 'Rally Car'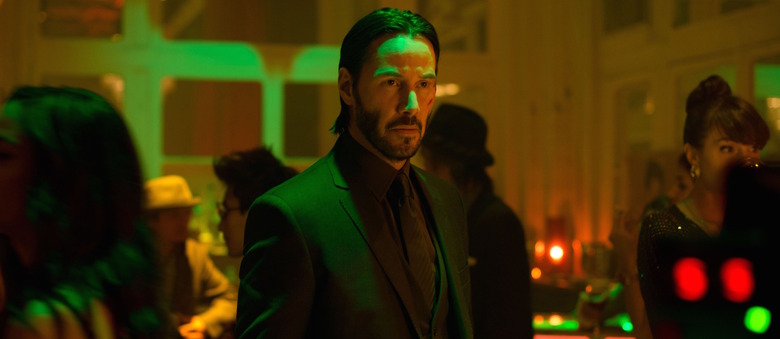 The John Wick sequel, Nicolas Winding Refn's The Neon Demon, and Ana Lily Amirpour's The Bad Batch aren't the only Keanu Reeves projects coming up. The actor is working on a deal that will have him take the wheel for a China-set action/comedy called Rally Car. The movie evidently has dreams of being something like a modern Cannonball Run, which featured a large and varied cast as participants in a cross-country car race. 
Deadline says this will probably be a true Chinese co-production, and therefore have some distribution advantages in China. Fundamental Films, headquartered in Shanghai, is backing the film, with Reeves' Company Films partner Stephen Hamel producing.Jeremy Lott wrote the movie, but we don't have many details. That's the same writer behind Sony's Robin Hood movie Hood, about which we haven't heard much in a few months. There's no director for Rally Car yet, and no other casting, though the rest of the ensemble should come together once Reeves and a director are set.
If there's truly a Cannonball Run sort of vibe here, we can probably expect a relatively large cast of action and comedy players. The title suggests this will be centered on a rally race in China, which offers the opportunity for quite a few colorful drivers and navigators, not to mention onlookers, support teams, and whoever else the script might want to play with.
(It's worth noting that Cannonball Run was a Golden Harvest production out of Hong Kong when the original film was made in the early '80s. So there's not a 1:1 correlation between how that movie was produced and this one, but it's a similar situation, at least.)
Reeves will next be seen in Eli Roth's Knock Knock, which hits theaters in the US on October 9. He also stars in Daughter of God, directed by Gee Malick Linton, and The Whole Truth, directed by Courtney Hunt, in addition to the films mentioned above. Those latter two, and The Neon Demon and The Bad Batch have no release dates yet. We'll probably get more info on the Amirpour and Refn movies at either Sundance or Cannes next year.