Star Wars Bits: Chewbacca #1, Rey's Accent, Battlefront Beta, Skellig Michael Shoot, Mark Hamill's Facial Hair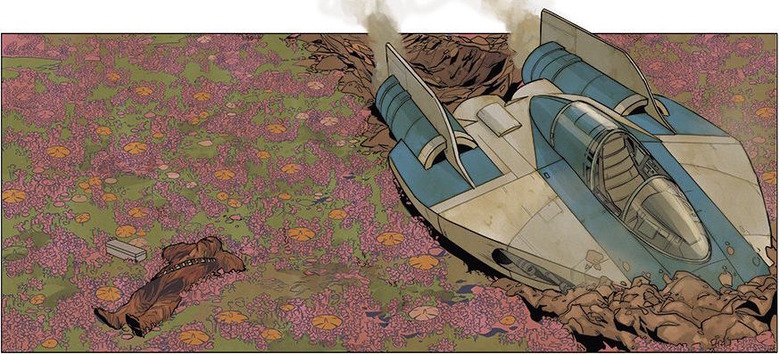 Before you go off to spend your weekend chilling like Chewbacca here, we've got everything you need to know about what's new in the world of Star Wars. After the jump:
Check out an awesome fanmade Holochess table with augmented reality
Take a peek inside Chewbacca's upcoming solo comic series
The Slave Leia costume and other Star Wars lots are up for auction
See the Force Awakens pins on sale at Disney parks
This Battlefront deluxe edition comes with a Han Solo mini-fridge
The Star Wars Battlefront beta will be open to everyone
Watch a preview of Star Wars Rebels Season 2
What accent will Daisy Ridley have in The Force Awakens?
General Hux actor Domhnall Gleeson defends the First Order
Rian Johnson thanks the good people of County Kerry, Ireland
Rest assured no Skellig Michael wildlife was harmed in the shoot
Mark Hamill has been spotted pulling pints in Ireland
Episode VIII might be shooting in Greenham Common now
One creative Redditor is creating a functional Star Wars Holochess table, and he's just hit the part where he incorporates augmented reality. Check out his work below:
I've been fiddling with augmented reality the past couple of days and I am very excited to say that I have had some success.
For those of you who are not familiar with "augmented reality", it's a technology that superimposes a computer-generated image (in this case, 3D scans of my monster sculpts) on a user's view of the real world through a cell phone, tablet or virtual reality system.
Follow the Dejarik Creations Facebook page to keep track of updates.
***
First announced in July, Marvel Comics' new Chewbacca series finally hits shelves this fall. Take a peek at the Wookiee's solo adventures, written by Gerry Duggan and illustrated by Phil Noto, below thanks to Marvel:
Following the Battle of Yavin, Chewbacca finds himself on his own and separated from the Rebel Alliance. Crash landing on an Imperial occupied planet, Chewie finds himself in the company of a young local girl in need. Together, they may just be enough to take on the forces invading her home and get Chewbacca back to the Rebellion.
Don't call him a fuzz ball. Don't call him a walking carpet. This is Chewbacca, fierce and loyal warrior of Kashyyyk in a brand new series beginning this October in CHEWBACCA #1!
We already kind of know how this ends, because Chewie shows back up in The Empire Strikes Back. But the journey there looks like a good time. Chewbacca #1 crash-lands October 14.
***
The Slave Leia costume that put a great many boys (and some girls) through puberty can now be yours to own. Provided you have an extra $80,000 and $120,000 lying around, that is. Said consignment manager Brian Chanes, "It's every schoolboy's fantasy but it's also a very signature, iconic piece."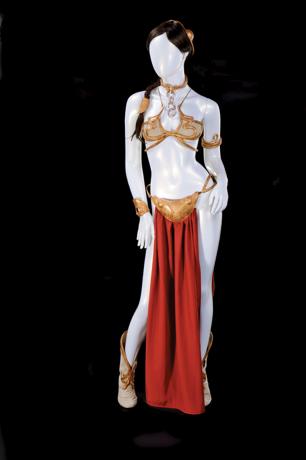 This is one of over 50 lots of Star Wars props and items going up for auction October 1 at Profiles in History. Other highlights include a 16-inch model of a blockade runner, expected to fetch $200,000-$300,000, and a Rebel Fleet Trooper helmet, expected to bring in $150,000+. Scripts, posters, and Darth Vader helmet prototypes will also be on sale.
***
Hitting up Disney Parks in the near future? Don't forget to pick up some of these Star Wars: The Force Awakens pins for your collection. Eric Tan, a creative at Disney Consumer Products, shared the artwork:
***
If you're planning to pick up a copy of Star Wars Battlefront for PlayStation 4 or Xbox One, you may want to consider this deluxe edition bundle from Walmart (via Polygon). For $129.98, you get the game plus a Han Solo mini-fridge. You're gonna something to keep you hydrated while you fight the Battle of Jakku, after all, so you might as well recharge in style.
The 4-liter fridge holds up to six 12-ounce cans, includes cooling and warming functions, and comes with a built-in carry handle, a removable shelf, a 110V US AC power cord, and a 12V DC power cord for your car. Pre-order it here.
***
Speaking of Star Wars Battlefront, here's some good news for gamers. EA has announced the Star Wars Battlefront beta will be open to everyone. Yes, even little old you. Here's a taste of what's in store, from the official EA blog:
For now, I can tell you this: the beta will consist of two Multiplayer modes and one of our Missions, which can be played via co-op, and split-screen on console. The Beta will also take place on PlayStation 4, Xbox One and via Origin for PC, so we have you covered regardless of your next generation platform of choice.
The exact release date has yet to be announced, but it's expected to arrive sometime in October.
***
USA Today has served up a new look at Season 2 of Star Wars Rebels, which will bring back Captain Rex and other Clone Troopers. Executive producer Dave Filoni delves into the Clones' history and place in the Star Wars universe, and actor Dee Bradley Baker – who voiced Rex and all the Clones on The Clone Wars, and will do the same on Rebels – calls it "a marvelous kind of homecoming."Star Wars Rebels Season 2 kicks off October 14 on Disney XD.
***
On the next page, read about Daisy Ridley's Force Awakens accent, General Hux's smile, the status of Mark Hamill's facial hair, and details on the next Episode VIII shooting location.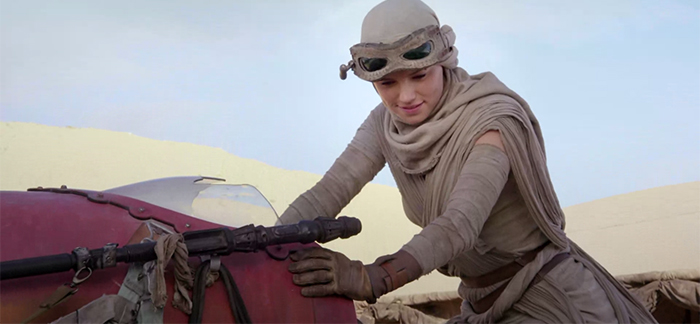 On Force Friday, we learned that John Boyega would be employing an American accent as Finn in Star Wars: The Force Awakens, but it seems the same isn't true of his fellow Brit and co-star Daisy Ridley. Star Wars 7 News noticed that Star Wars dialect coach Andrew Jack has listed Rey's Force Awakens accent on his website as "RP," which stands for "Received Pronounciation."
As Anglophenia's Siobhan Thompson (h/t Star Wars Underworld) puts it, RP is "your standard BBC English" — the posh kind used by middle- and upper-class folks like Martin Freeman and Benedict Cumberbatch. In the Star Wars movies, it's typically spoken by Core World characters and by people of power. What exactly that tells us about Rey is hard to say, but feel free to speculate in the comments.
***
How does a nice guy like Domhnall Gleeson justify joining up with the First Order in Star Wars: The Force Awakens? The actor defended the cause in an interview with MTV:
They want everybody to be on the same page here. I don't see what's wrong with that. You know what I mean? Sure they're strict, but that's good! You know, my best teachers were strict.
Whether you buy that line of reasoning or not, it's clear Gleeson's General Hux is a very serious dude. Asked whether Hux flashes a single smile in the film, Gleeson responded with a laugh:
Jesus, I don't know. Maybe. He might do. It depends where they go in the edits. They could go with the really happy dude or the more serious one. We'll wait and see.
Watch the full interview below:
***
Star Wars Episode VIII is now done shooting on Skellig Michael. On his way out, director Rian Johnson tweeted a note of thanks to the locals.
This is just the start for Star Wars Episode VIII, which arrives in theaters May 27, 2017. Keep reading for more...
***
There's been some concern over how the Star Wars shoot might impact Skellig Michael's wildlife. Happily, Radio Kerry reports Heather Humphrey, Ireland's Minister of the Arts, is "confident the right balance was struck between protecting the UNESCO world heritage site and allowing the filming to take place."
The three-day shoot was monitored by experts who ensured Star Wars would not disrupt or threaten the local flora and fauna. It sounds like all has worked out for the best, and we can now watch the films without worrying that real creatures were killed to make way for fictional ones.
***
Near the end of shooting on Skellig Michael, Mark Hamill hit up the Bridge Bar in Portmagee and even pulled a few pints of Guinness. See the photo evidence below (via Irish Examiner):
In a tiny pub in Portmagee.... And it's only Luke Skywalker pic.twitter.com/eNwBehHOp1

— Colm Flynn (@ColmFlynn1) September 16, 2015
Luke Skywalker is pulling pints in Portmagee.... yes this is happening pic.twitter.com/Irpm5tiA7G

— Colm Flynn (@ColmFlynn1) September 17, 2015
The locals seem thrilled to have seen him, and Hamill returned the love on Twitter:
Enjoying? Ireland is simply heaven on earth! The people here treat you like family. https://t.co/ablGHoMmjr

— Mark Hamill (@HamillHimself) September 17, 2015
The really interesting detail here, however, is that Hamill isn't sporting his contractually obligated beard from Star Wars: The Force Awakens. According to one person at the bar, Hamill was expecting to get up early the next day for more shooting. Does that mean we'll see Luke Skywalker sans beard in Episode VIII?
***
Now that shooting is all wrapped up on Skellig Michael, it it appears Episode VIII may move to Greenham Common, a former Royal Air Force station. The area has hosted several productions including Downton Abbey and — more relevantly — Star Wars: The Force Awakens, where it serves as the Resistance base.
After rumors about a Greenham Common shoot circulated, a local tipster told Making Star Wars he'd come by what appeared to be setup for a Star Wars shoot. No big, juicy details as of yet, but we'll be keeping our eyes peeled for more updates from the area.