'Jessica Jones' Images: Krysten Ritter Leads Netflix's New Marvel Series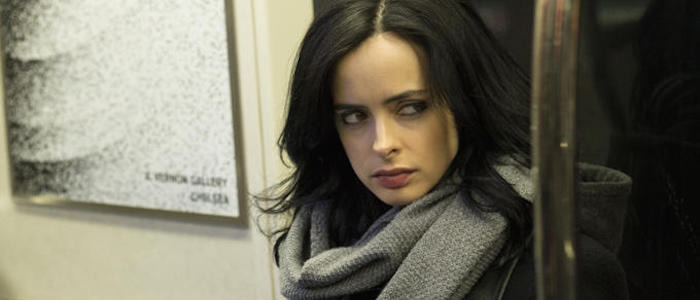 The first Jessica Jones teaser released last week was fantastic — gorgeous, moody, mysterious, and even helpful, thanks to its release date reveal. But it didn't actually show us much of the series itself. For that, we turn to the new batch of official images released today.
Krysten Ritter leads Netflix's latest Marvel series as the titular character, whose short-lived stint as a superheroine has come to a tragic end. She tries to rebuild her life as a P.I. who specializes in cases involving superpowered people. The Jessica Jones images also reveal David Tennant as Kilgrave, Mike Colter as Luke Cage, Rachael Taylor as Trish Walker, and Carrie-Anne Moss as Harper. See them all after the jump. 
Netflix unveiled the new Jessica Jones images. The running themes here are suspicious scowls and covetable fall outerwear.
David Tennant plays Jessica Jones' main villain, Kilgrave a.k.a. the Purple Man. In the comics, he's full-on purple, like down to his skin and everything, but here his signature color is reduced an ombré scarf. He has ties to Jessica's past and "sends shockwaves" through her life when he resurfaces.
Rachael Taylor plays Trish Walker, Jessica's best friend, also known as Hellcat in the comics, and Carrie-Anne Moss is Harper, another potential ally for Jessica. Mike Colter makes his debut as Luke Cage in a recurring role, before going on to headline his own show at Netflix next year. Rosario Dawson returns from Daredevil as Claire Temple. Eka Darville, Erin Moriarty, and Wil Traval round out the cast.
All 13 episodes of Jessica Jones arrive November 20 on Netflix. It will be the second of the streaming service's four planned Marvel series, following Daredevil and followed next year by Luke Cage and Iron Fist. All four leading heroes will then team up for an event miniseries titled The Defenders at an as-yet-undetermined date.