'Skull Island' Begins Legendary's Plan For Three-Film Godzilla And King Kong Cycle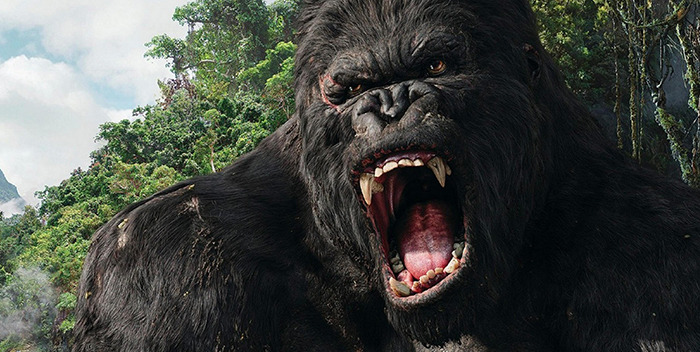 We've wondered what other details lay behind Legendary's move of Kong: Skull Island from Universal to Warner Bros., as the idea that WB was just a better fit for the movie seemed to be only part of the story. I wouldn't say we know all the details yet, but a few revelations were dropped today about the state of the relationship between Universal and Legendary, and what is in store for Kong and Godzilla at Warner Bros.
The short version is that we'll likely see a three-picture series at WB, with Skull Island being the first, Godzilla 2 being the second, and a third "King Kong vs Godzilla" film in which the two creatures will fight... or possibly even team up. 
The Hollywood Reporter has the report, which is the same report that delivered the news that Pacific Rim 2 is delayed indefinitely. The site says the third film in this series that begins with Skull Island (or, if you want, the fourth movie in a series that began with Godzilla) would be "a mashup that pits the ape against Godzilla."
There are already plans to refer back to the 2014 Godzilla in Skull Island, or perhaps to refer forward to the movie, since the new Kong film is set in the 1970s, years before Godzilla. THR says,
Now that Legendary has moved Kong, that settles a brewing argument over the script's references to Monarch, the secret government entity in Godzilla that employed the characters played by Ken Watanabe and Sally Hawkins. Obviously, the inclusion of Monarch in Kong is a move to tie the ape into a hoped-for Godzilla "universe." Warners, which held onto the right to participate in any Godzilla sequel, did not relish the idea of a Godzilla element in a Universal-backed Kong movie.
One question I and many other people raised when the Kong/Godzilla matchup was proposed related to the very different sizes of the two characters. But that's something Legendary reportedly has sorted out. Or, at least, there's confidence that it won't be a problem.
A threshold problem is that Kong supposedly is much smaller than Godzilla. That fact was not lost on Universal. "There were funny comments about him having to be the size of the Empire State Building instead of hanging off of it," says a studio insider. But a source close to Tull says Legendary is confident it can come up with a rationale to explain how Kong and Godzilla can do battle — and possibly become allies.
There's a lot more in THR's piece, including some ideas about how Universal feels about Crimson Peak (hint: maybe not great) and how that plays into the Pacific Rim troubles, not to mention intimations of how Universal's powerful 2015 has perhaps shifted thinking at the studio away from Legendary's offerings.