Benicio Del Toro Might Not Be The Villain In 'Star Wars Episode 8' After All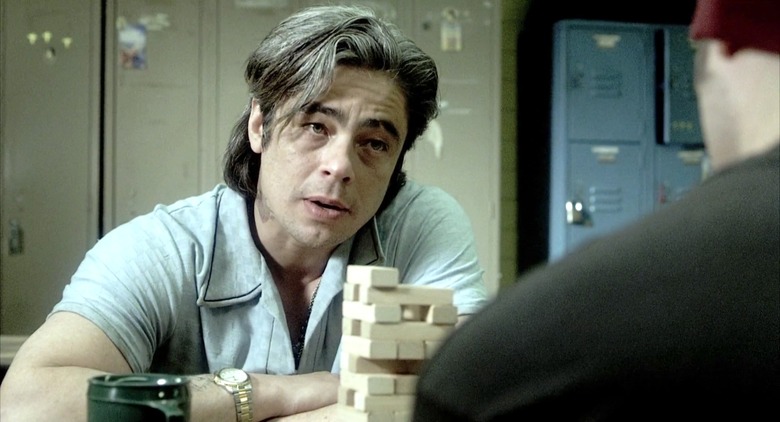 As you know, Benicio Del Toro has been cast in Rian Johnson's Star Wars: The Force Awakens follow-up Star Wars: Episode VIII (currently untitled). When the casting was first reported by industry website The Wrap, they claimed that the role was the villain role for the upcoming installment. But now the actor is hinting that he might not be actually playing the villain in the new film, but is this just a bit of misdirection? Find out more about the Benicio Del Toro Star Wars role, after the jump.
While at the Toronto International Film Festival, Benicio Del Toro spoke with Entertainment Tonight about his mysterious rolein the upcoming Star Wars sequel:
I don't know if he's a villain. People are saying that, but it's like they read a different script than I read.
Not only does this contradict The Wrap's original report, but it also contradicts what the actor told Spanish outlet at Rac1.org earlier this month:
"Ehhh, the thing is, they don't let me talk too much about it. I'm like the villain. But we'll see."
So how can it be that he confirms he's playing the villain in one interview and tries to suggest otherwise in a different interview. Its possible that he's just deflecting after being disciplined by the studio for confirming the earlier trade report. Remember, this kind of thing happens sometimes on mysterious projects. Del Toro was once up for the role that Benedict Cumberbatch ended up playing in Star Trek: Into Darkness, which was notoriously denied in media by various cast and crew and the filmmaker even had scenes from the film re-edited to try to fool the movie press (a tactic even director JJ Abrams has since admitted was a mistake.
Back to the Entertainment Tonight interview, Del Toro added:
"It's nice to keep people in the dark, a little bit of mystery is good. If they want to believe it's the villain, then good."
Rumor has it that Lucasfilm and Johnson were also interested in Joaquin Phoenix for the role that del Toro eventually was cast. Phoenix and Del Toro were just seen on screen together in Inherent Vice. Both actors are capable of playing a villainous character, or possibly a more mysterious character who walks the fine line in-between.
We don't know much about Star Wars Episode VIII as Star Wars: The Force Awakens hasn't even hit screens. The film just began shooting this week, and is being written and directed by Rian Johnson (Brick, The Brothers Bloom, and Looper), with a planned release date of May 26, 2017. Ram Bergman, who worked as producer on Johnson's films  will also be a producer on Episode VIII.
We've had indications that many of the key actors from Star Wars: The Force Awakens will carry over to Episode VIII, including Daisy Ridley, John Boyega, Mark Hamill and Oscar Isaac.