'Pacific Rim 2' Delayed Indefinitely, May Be Cancelled Altogether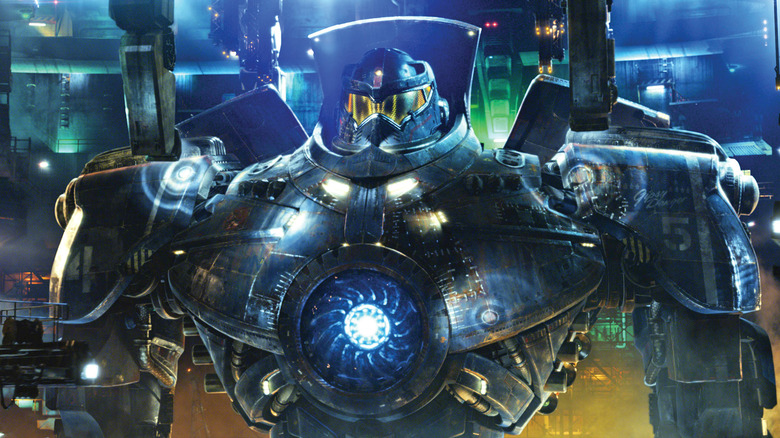 Pacific Rim 2 has just hit a kaiju-sized roadblock. The sci-fi action sequel has reportedly been "halted indefinitely," after rumors of delays circulated last week. That could mean the film will just arrive a bit later than we'd hoped; it may also mean it'll never get made. More on the Pacific Rim 2 delay after the jump. 
THR broke the bad news in a lengthy piece about Legendary's offscreen drama with Universal and Warner Bros. Director Guillermo del Toro had been gearing up to shoot Pacific Rim 2 in November, for release by Universal on August 4, 2017. However, the film will now be pushed back or cancelled altogether.
The trade doesn't explain why exactly Universal is getting cold feet about Pacific Rim 2, but it basically comes down to money. As they point out, the original Pacific Rim was "one of those films that grosses a lot ($411 million worldwide) while being so costly that a follow-up isn't a sure thing."
The production budget for the original Pacific Rim 2 was reported to be $190 million. That's a lot less than, say, Avengers: Age of Ultron ($250 million) but a good sight more than Jurassic World ($150 million). It's also enough money that we can understand why these companies would be hesitant about diving in with a follow-up.
Del Toro had started making plans for Pacific Rim 2 before the first one even hit theaters. Initially, the original's poor performance at the domestic box office ($101 million, or a little over half the production budget) made a sequel look like a pipe dream. But the sci-fi actioner rallied overseas, making a killing in China, and so Legendary decided to proceed with a follow-up.
Stars Charlie Hunnam, Charlie Day, Burn Gorman, and probably Rinko Kikuchi were expected back for Pacific Rim 2. The script by del Toro, Travis Beacham, and Zak Penn picks up a few years after the events of the first film, with more kaiju action. It was also supposed to pave the way for Pacific Rim 3.