Liam Neeson To Star In Action-Comedy 'The Revenger', From 'Zombieland' Director Ruben Fleischer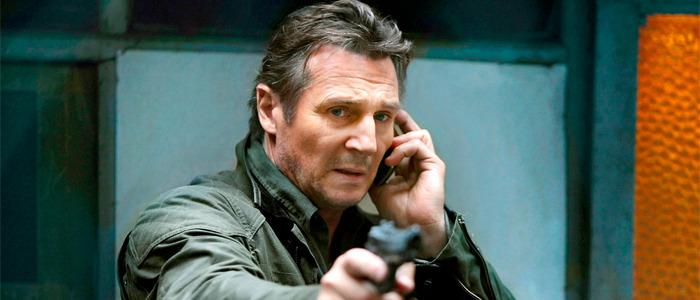 These days, Liam Neeson is best known as a badass action hero. But if you've seen films like A Million Ways to Die in the West, The Nut Job, and The Lego Movie, you'll know he also has a taste for comedy. Now he's booked a film that'll let him show employ both particular sets of skills.
Neeson is set to star in The Revenger, an action-comedy from Reno 911! duo Thomas Lennon and Robert Ben Garant. Zombieland's Ruben Fleischer will direct. Learn all about the Liam Neeson Revenger project after the jump. 
Deadline broke news of the Liam Neeson Revenger movie. Plot details are classified at the moment. However, the genre and title suggest a goofy spin on the kind of vengeance thrillers that have become Neeson's bread and butter. If so, it's hard to imagine a more perfect casting choice.
Lennon and Garant scripted the first two Night at the Museum movies, as well as Hell Baby (which they also directed), Herbie Fully Loaded, and The Pacifier. Coming up next for Garant is the horror pic The Veil, which continues his relationship with producer Jason Blum after Jessabelle. Lennon stars next year in CBS' The Odd Couple reboot with Matthew Perry.
Neeson kicked off the year with yet another revenge drama, Jaume Collet-Serra's Run All Night, and popped up in Ted 2 and Entourage cameos this summer. He recently wrapped Martin Scorsese's Silence and J.A. Bayona's A Monster Calls, both due out in 2016.
Fleischer is still a hot director thanks to the success of his feature directing debut Zombieland, but his follow-ups have been disappointing, to say the least. 30 Minutes or Less was limp, and Gangster Squad was downright risible. Hopefully The Revenger will be just the film to get him back on track.
Scott Stuber (Ted 2) and Dylan Clark (Dawn of the Planet of the Apes) will produce The Revenger along with Fleischer and David Bernad (The D Train). No start date has been announced.
To celebrate Neeson's foray into action-comedy, here's a clip of his appearance on Key & Peele. While it's not really the best use of Neeson's comedy chops, it does show him in the general vicinity of hilarious things happening. (Plus, we just miss Key & Peele.)