When Will 'Star Wars: The Force Awakens' Tickets Go On Sale?

Not a day goes by that I'm not tweeted the following question by a /Film reader: "Peter, do you know when Star Wars: The Force Awakens tickets will go on sale?" And the answer always is, "I have no idea." Well, a new rumor claims that tickets will go on sale in just over a month. Find out the details on this Force Awakens tickets rumor, after the jump.
The following originates on FullOfSith's Facebook page (via SWU):
Your wallet's gotten a workout since Force Friday, but you're probably wondering "When do I get to spend money on the the good stuff? **When can I buy tickets to The Force Awakens?**" OCTOBER 19th. That's when. At least if you've got a Century or Cinemark theater nearby. Although it's likely a safe bet your Regals and your AMCs will have their box-offices waiting to recieve your moneys around the same time. Speaking of bets (safe or otherwise) odds seem decent there *might* be a trailer right around that date to help push people towards that open and waiting box-office on the 19th. Maybe that day. Maybe the prior weekend. Maybe a week previous. Who knows. Anyway: OCTOBER 19th. Tickets for The Force Awakens go on sale. There you go.
Now I'm not sure if the Full of Sith podcast is a reliable source or not, but I can tell you this: usually in these type of situations word leaks out first from exhibitor sources. And many of the Star Wars leaks have hit the Star Wars fan sites first.
Remember, theater chains need to start planning and schedule staff for possible box office madness. Remember when Disney premiered the Star Wars: The Force Awakens teaser trailer on every screening of every single movie at select theaters? We reported that early and the sources were likely in exhibition. The source of this latest rumor could very well be someone working at a Century or Cinemark Theatre.
Now of course, I would usually send an e-mail out to my Lucasfilm and Disney contacts, but that's become a useless process when it comes to Star Wars. There is no way they are going to confirm or deny a ticket on sale date to us. And you can be sure Disney will announce a date in grand style and it will be a media circus, so you will surely know when tickets are going to go on sale well before that date hits.
Sources in the movie theater exhibition industry have been projecting that tickets would probably go on sale about a month in advance, with tickets available on online ticketing websites like Fandango and Movietickets.com. So this rumored October 19th date is a whole two months before the film hits screens in the U.S., much earlier than we would have expected.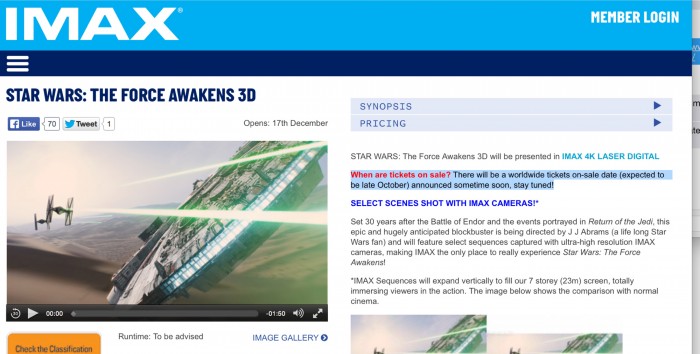 Update: /Film reader Darren T sent in the following link to the official website of the IMAX theatre in Melbourne which states the following:
When are tickets on sale? There will be a worldwide tickets on-sale date (expected to be late October) announced sometime soon, stay tuned!
So its very possible this rumored October 19th 2015 date is legit.
Tickets for Star Wars Episode I: The Phantom Menace went on sale one week prior to the film's release, and originally tickets were only going to be sold in person to prevent scalping and give fans a fair chance to get tickets on a first come, first serve basis. Of course, some theaters had lines outside there theaters with people waiting days advance to buy tickets. (Some waited in line over a month. Two guys waited in line for four months to see Episode II.) I remember waiting in one of these lines overnight at the then General Cinemas in Framingham, Massachusetts, as the major lines were really limited to major cities like New York and Los Angeles.
The Star Wars: The Force Awakens release date of December 18, 2015 (in the US) doesn't necessarily mean that the first screenings will be at midnight the night before. As you've probably noticed, studios have begun allowing theaters to start their premiere shows at 7:00pm the night before for many event movies. We're not sure if this means Disney will allow the first screenings at 7:00pm on December 17th 2015, or not.
In these kind of situations (not that there has ever been a movie release on the caliber of Star Wars: The Force Awakens), showtimes are usually more limited during the advanced sale period with more screens and showtimes opening up as the theaters get closer to the release date.