NYFF Trailer Features A Glimpse Of Don Cheadle As Miles Davis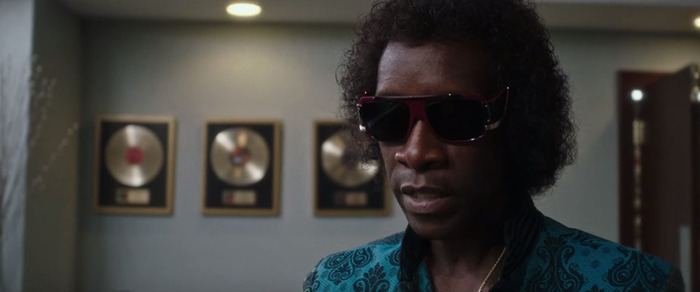 In the past couple years the trailer for the New York Film Festival has been a nice little thing to look forward to. Each NYFF trailer is usually very well cut, and also features some glimpse of footage for a film we otherwise haven't seen yet. This year, that film is Miles Ahead, the Miles Davis biopic directed by and starring Don Cheadle.
This trailer also features Maggie's Plan by Rebecca Miller, which stars Greta Gerwig, Ethan Hawke, and Julianne Moore; and footage from The Walk, Bridge Of Spies, Steve Jobs, Carol, and quite a few more. There's even a good bit of footage from Guy Maddin's The Forbidden Room. (Hint: the Guy Maddin footage is the most odd-looking stuff.)
Here's what the NYFF says about Miles Ahead:
Miles Davis was one of the greatest artists of the 20th century. And how do you make a movie about him? You get to know the man inside and out and then you reveal him in full, which is exactly what Don Cheadle does as a director, a writer, and an actor with this remarkable portrait of Davis, refracted through his crazy days in the late '70s. Holed up in his Manhattan apartment, wracked with pain from a variety of ailments and sweating for the next check from his record company, dodging sycophants and industry executives, he is haunted by memories of old glories and humiliations and of his years with his great love Frances Taylor (Emayatzy Corinealdi). Every second of Cheadle's cinematic mosaic is passionately engaged with its subject: this is, truly, one of the finest films ever made about the life of an artist. With Ewan McGregor as Dave Brill, the "reporter" who cons his way into Miles' apartment. A Sony Pictures Classics release.
Trailer originally via EW. The one big NYFF film that might not be represented here is Junun, the documentary Paul Thomas Anderson directed following Jonny Greenwood's journey to India to record with Israeli composer Shye Ben Tzur. The New York Film Festival begins next Friday, September 25. Tickets are on sale here.
Here are the last few NYFF trailers: