Darren Aronofsky In Early Talks To Direct Channing Tatum As Evel Knievel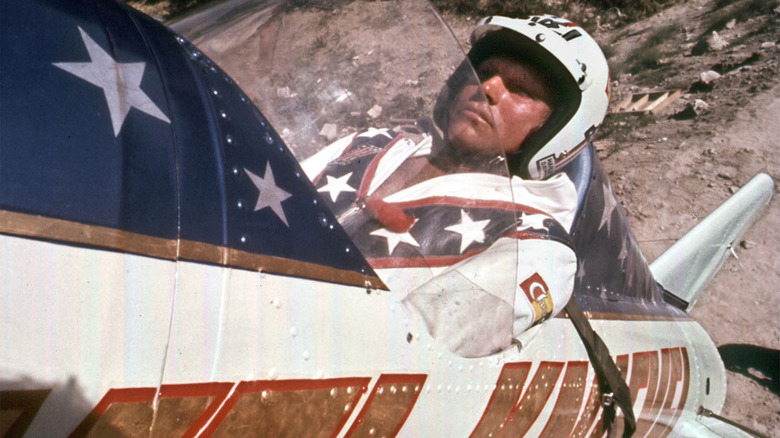 Evel Knievel was the prototype stuntman for the current age, a media-savvy showman who rode a devil-may-care attitude (and a willingness to endure pain) to fame and fortune. His rise and fall story is unique in its specifics, and woefully pedestrian in its arc of human foibles.
Who else has attempted to ride a steam-powered "rocket cycle" across a mile-wide canyon? And who cares if he made it? Knievel's failures did as much myth-building as his successes. He was also a jerk who let his appetites run away with him. He cheated on his wife more times than anyone can count, and attacked his former promoter with a baseball bat, effectively braining his own career in the process.
Channing Tatum is obsessed with Evel Knievel, and he and his creative partner Reid Carolin are producing a biopic about the late stuntman which Tatum may star in as well. Now the film is reportedly courting a new director, who might be perfect for Knievel's story of obsession and mental and physical intensity: Darren Aronofsky.The Tracking Board first reported that Peter Berg was off the Knievel biopic and that Aronofsky is taking over. Deadline follows up with a report saying that Aronofsky doesn't have a contract, but that early talks are going on at Sony. (Film 44 and Trigger Street are behind the film with Dana Brunetti and Michael De Luca also producing.)
The Tracking Board report also says Tatum is definitely going to star. That's been the rumor about this film for years; the word first came up in 2012 that Tatum wanted to play Evel Knievel , and he talked about wanting to play the role last year during an interview with Jimmy Fallon:
I can't quite see Tatum in the role — as good as he is, and even with the weird energy he displayed in Foxcatcher, I don't see him with Knievel's particular leonine intensity. He's got the charisma, no doubt, and I guess he can't be any worse than George Hamilton was when he played Knievel in a 1971 film. Hell, he definitely can't be worse than Knievel was playing himself in the  1977 film Viva Knievel!, which proved that some charisma doesn't translate to the movies.
And while Tatum isn't the person who comes to mind to play the guy, Aronofsky seems perfectly suited to guide the depiction of excess that was Knievel's life. So perhaps the two can work together to make it work. (Scott Silver is also reportedly rewriting Carolin's script.)
The documentary Being Evel tells Knievel's story really well, and it is available on VOD now. You can see a trailer for that film, which debuted at Sundance this past January, right here: