'Crimson Peak' Clip: Jessica Chastain Gives Mia Wasikowska A Chilly Reception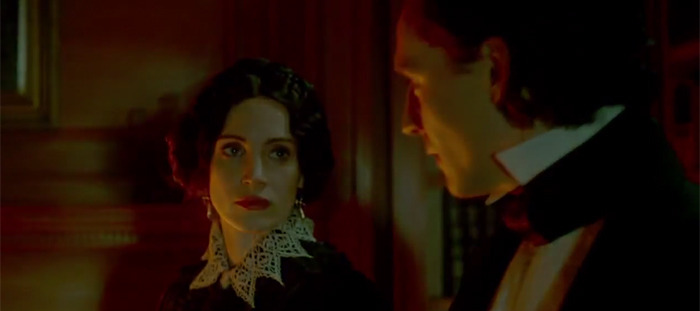 Crimson Peak, the new film from Guillermo del Toro, is the writer/director's take on a gothic haunted house movie, with Tom Hiddleston and Jessica Chastain as sibling residents of an old mansion who welcome Hiddleston's bride, played by Mia Wasikowska, into their midst.
Actually, "welcome" isn't the word to use at all, as this new Crimson Peak clip shows. While the first couple trailers for the film have been all atmosphere and effects, this one is mostly drama, as Chastain thoroughly denies any warm welcome to her brother's new bride.
We've certainly seen elements of Chastain's cold demeanor in the film's first trailers (such as the one here or this one) and this scene has me wondering if there's a reversal of sorts coming in the film. Chastain's character, Lady Lucille Sharpe, is just so over-the-top chilly that there's got to be something else going on with her.
And that line about the water running red with clay is a good indicator that we're going to see some really icky stuff as Wasikowska's character Edith Cushing settles into and explores the house. I'm hoping for a really gratuitously excessive flood of red later in the film, something on par with The Shining. Since the film's opening is just a month off, it probably won't be long before we have to start dodging serious spoilers in that regard, so be on the lookout. (There might be something here about Crimson Peak's locked doors being metaphorical barriers against spoilers, but I'm not going to think too hard about that.)
We'll find out when Crimson Peak opens on October 16. This clip comes via Yahoo, as you could probably tell.
The film also features Charlie Hunnam as Dr. Alan McMichael, a "quiet, shy, thoughtful kind of stoic, taciturn, very learned guy who is madly in love" with Edith Cushing. The cast also boasts del Toro's Pacific Rim actor Burn Gorman, and Jim Beaver, Emily Coutts, Matia Jackett, Leslie Hope, and of course Doug Jones.
When her heart is stolen by a seductive stranger, a young woman is swept away to a house atop a mountain of blood-red clay: a place filled with secrets that will haunt her forever. Between desire and darkness, between mystery and madness, lies the truth behind Crimson Peak. From the imagination of director Guillermo del Toro comes a supernatural mystery starring Tom Hiddleston, Jessica Chastain, Mia Wasikowska and Charlie Hunnam.