Rumor: 'Akira' Developing As A Trilogy, Christopher Nolan May Be Involved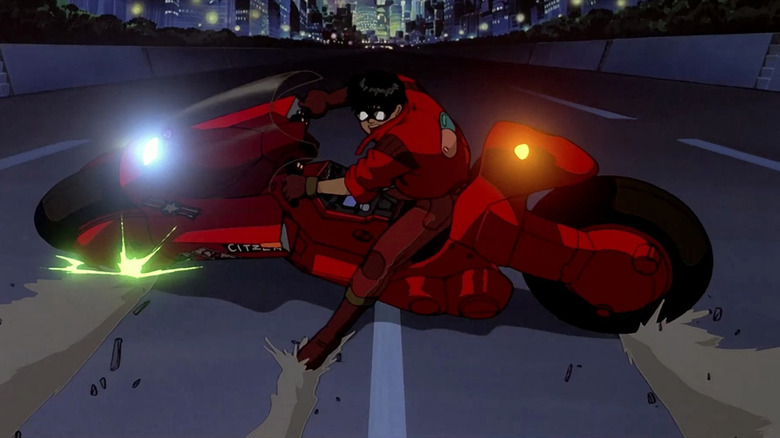 The development of a live-action adaptation of Akira is a story that has quite a few twists and turns, but is pretty simple to summarize: no one has been able to crack it. Warner Bros. and Appian Way have tried with a few different creative teams, most recently with director Jaume Collet-Serra (Non-Stop) set to make the movie. But WB wanted budget cuts, and it all fell apart.
Earlier this summer, however, development turned back on with Sons of Anarchy writer and Daredevil second season co-showrunner Marco J. Ramirez on hand to script. Now there's a new Akira live-action rumor, that Warner Bros. is pushing for three films, and that Christopher Nolan is somehow involved. (Update: Or perhaps not; multiple sources have told me that Nolan has no part in this development.) Guess those budget cuts might not be as much of an issue now.
The report comes from Den of Geek, with the report being a two-part deal jumping off recent word that Warner Bros. has ramped up development on Akira once again, with Leonardo DiCaprio's production company Appian Way behind the project and a script (or scripts) from Ramirez:
First is that Warner Bros. reportedly wants to make Akira as a set of three films.
Second, there's word that Christopher Nolan "has met with a previously attached filmmaker (who we can't name here) within the past three months to talk about the project."
That last bit is what's getting a lot of attention, especially since Warner Bros. just dated a mystery Nolan film for release in July 2017. Note that Nolan's 2017 film is almost certainly not Akira. If this rumor is correct, Nolan may be acting in a producer capacity on the film, or could simply be a sort of artistic godfather for the project, or a go-between working with WB.
Update: I've spoken to three people today who say that the Nolan angle in this story is completely off-base. So we'll stick with the knowledge that Warner Bros. is indeed developing the project and nothing else at this point.
Odds are the "previously attached" director is Ruairi Robinson, whose proof-of-concept trailer Leviathan led to Fox setting a feature version of that film in motion with Simon Kinberg and Neill Blomkamp producing.
Given the years of development on Akira, we're not surprised to hear of anything related to the film at this point – although news of Nolan directing would be a shock. (Again: I don't think that's at all what's happening here.)
The tricky and controversial remake got pretty close to shooting in its last development incarnation, with a cast set to feature Garret Hedlund, Ken Watanabe, Kristen Stewart, Helena Bonham Carter and possibly Toby Kebbell (a big fan of the manga and anime versions of the story) before continued casting and budget issues led to a shutdown in late 2011/early 2012. Will it fare any better now?