Simon Kinberg Is "Really Focused" On 'Fantastic Four 2'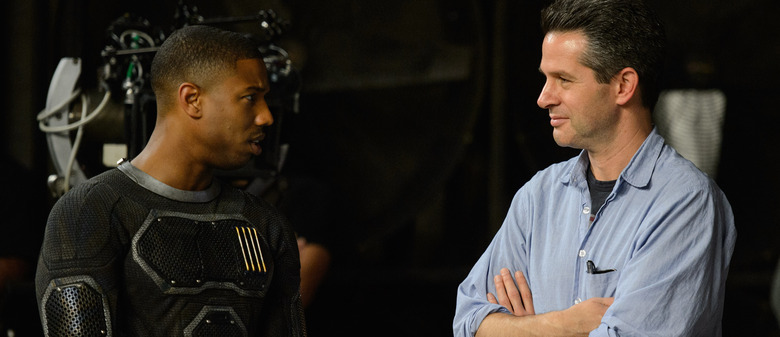 Any way you slice it, Josh Trank's Fantastic Four was a bomb. Not only was it the second biggest flop of the summer, it got the worst reviews of any Marvel movie ever — from critics and audiences. And the film's troubles began long before it hit screens, based on all the reports of behind-the-scenes drama.
But it's still a valuable IP, and so in spite of all that bad buzz, Fox is pressing onward with a sequel. Producer Simon Kinberg says he's "really focused" on making a Fantastic Four 2 happen with the same cast. Star Kate Mara, on the other hand, sounds more skeptical. Read the Fantastic Four 2 Simon Kinberg and Kate Mara comments after the jump. 
Kinberg reiterated the studio's commitment to Fantastic Four in an interview with MTV News. "I'm really focused on the next one," he said. The plan, he continued, is to bring back the same cast (Mara, Michael B. Jordan, Miles Teller, and Jamie Bell). "We're figuring out what that movie would be," he said. "I'd like that to happen."
Of the negative reaction to the first film, Kinberg said:
I was obviously disappointed. I was most disappointed that fans didn't like it. I care more about them than I do anyone else. But I haven't done a full deep dive on it. Do I think it was unfairly treated? I don't know.
There's been a lot of finger-pointing in the wake of Fantastic Four's failure, and Kinberg noted the press' coverage of the behind-the-scenes difficulties didn't help:
I've been on plenty of happy movies that don't turn out to be very good movies, I've been on a lot of unhappy, difficult sets that turn out to be great movies. There was a lot of attention on the process of making that movie. It's hard, when you're making a movie, movies are hard to make. It's just the reality.
Every time you make a movie, you want to make a great movie. It's a ton of time and effort you put in. We made that movie in the sweltering heat of summer in Baton Rouge and I was there every day of photography. You're waking up every morning being like, I want to go make a great movie. It was an opportunity to do that. I do believe there is a great 'Fantastic Four' movie that we've made with that cast. So I'm gonna figure out what that is.
While Kinberg is trying to stay optimistic, Mara sounded less sure of the franchise's future. She told MTV News she thought it "unlikely that [a sequel] will happen" but added that she'd be game for one if it does. "I would love to play Sue Storm in a movie that everybody loves. That would be great," she said.
Mara also spoke highly of the cast, who she said "really had each other's backs." "That's the thing that makes me most bummed because we have no idea if we'll ever make another one," she confessed to the New Zealand Herald.
In the meantime, Mara and Kinberg did get to work together on another sci-fi movie that's getting much, much better reviews. Mara co-stars opposite Matt Damon in Ridley Scott's The Martian, which Kinberg produced. Following its TIFF debut last week, The Martian will land in theaters October 2. As of now, Fantastic Four 2 is still slotted for June 9, 2017.