'Red Oaks' Trailer: Steven Soderbergh And David Gordon Green Team Up For Amazon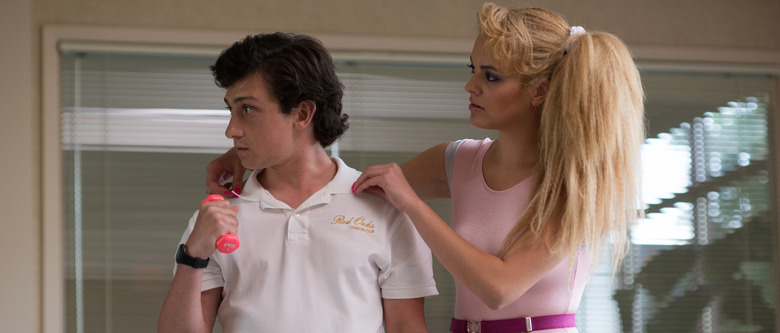 Here's another new show to add to your fall TV to-do list. Amazon Studios has just debuted the first trailer for Red Oaks, a 1980s comedy executive produced by Steven Soderbergh and David Gordon Green. Craig Roberts plays David, a college student uncertain about his future. He picks up a summer job at a country club, where he meets all sorts of characters who teach him about life and about himself.
If that sounds like it's got a strong Adventureland vibe to it, the Red Oaks trailer isn't exactly going to dissuade you of that notion. Watch it after the jump.
The pilot for Red Oaks debuted on Amazon over a year ago, and got pretty good reviews at the time. HitFix's Alan Sepinwall noted that "it feels fully-formed from its opening moments, is funny when it wants to be and has an instantly-deep bench of characters," while THR praised it as "particularly fun for its retro appeal and breezy humor about coming of age."
The trailer doesn't play like the most original thing we've ever seen (again, the Adventureland parallels are strong here), but there's plenty to like already and we can hope it'll come into its own as the season goes on. Plus, Soderbergh and Green have had great success with TV before — Soderbergh with The Knick, which enters its second season this fall, and Green with Eastbound and Down, which wrapped up in 2013.
All 10 episodes of Red Oaks hit Amazon Prime October 9. Also starring are Richard Kind and Jennifer Grey as David's parents, Gage Golightly as his girlfriend, Oliver Cooper as his friend, Ennis Esmer as his boss, Alexandra Socha as David's other love interest, and Paul Reiser as her dad. Joe Gangemi and Gregory Jacobs also serve as executive producers.
Set in suburban New Jersey in 1985, Red Oaks centers around college student David Meyers—a young man at a crossroads as he tries to figure out who he is and what he wants to be in this world. He gets a summer job as an assistant tennis pro at the Red Oaks Country Club and while there, David finds himself the recipient of unsolicited life advice from a colorful group of coworkers and club members on his journey of self-discovery.