Oliver Stone's 'Snowden' Pushed To 2016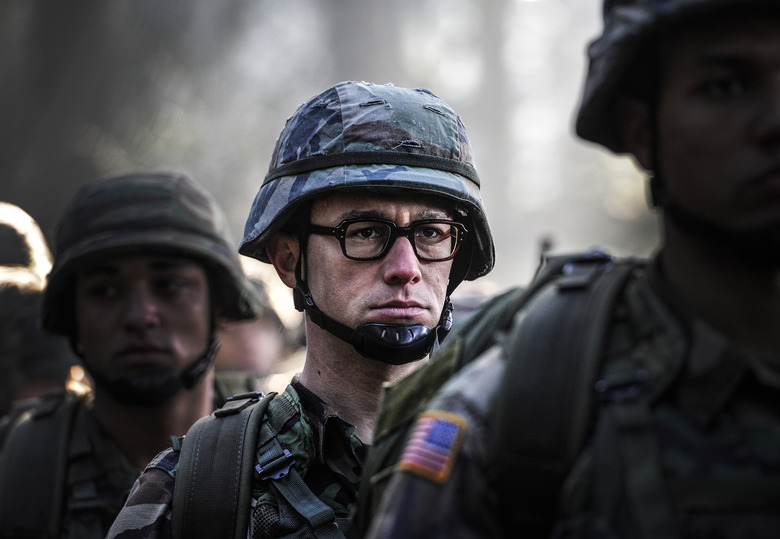 It looks like we'll have one fewer present to open come Christmas Day. Open Road has pushed Oliver Stone's Snowden off its year-end release calendar and into 2016. The film stars Joseph Gordon-Levitt as the controversial NSA whistleblower. More on the Snowden release date delay after the jump. 
Open Road has not yet announced a new release date for Snowden. THR's sources indicate the film isn't done yet, so the delay should give Stone more time to finish up. Unfortunately, the release date change also takes Snowden out of the running for this year's Oscar race. (Gordon-Levitt might remain part of the Oscar conversation, though, as he's also got Robert Zemeckis' The Walk due out later this year.)
On the other hand, it'll spare Snowden the challenge of competing on the crowded holiday weekend. Under its old December 25 release date, Snowden would have been up against Alvin and the Chipmunks: The Road Chip, Daddy's Home, Point Break, Concussion, Joy, The Hateful Eight, and The Revenant, as well as the second week of Star Wars: The Force Awakens.
Stone and Kieran Fitzgerald wrote the Snowden screenplay, based on Luke Harding's The Snowden Files: The Inside Story of the World's Most Wanted Man and Time of the Octopus by Anatoly Kucherena. The latter is a novel by Snowden's Russian lawyer, about an American whistleblower awaiting asylum in a Russian airport.
Snowden is still a figure of controversy, and if you're wondering where Stone stands, he's made his position pretty clear in the past. He's gone on the record calling Snowden a "hero" for exposing the details of NSA's global surveillance program, and President Barack Obama a "disgrace" for prioritizing the hunt for Snowden over the reformation of "George Bush-style eavesdropping techniques."
Besides Gordon-Levitt, Snowden stars Shailene Woodley as Snowden's girlfriend Lindsay Mills; Melissa Leo as Citizenfour director Laura Poitras; Zachary Quinto as journalist Glenn Greenwald; Tom Wilkinson as political reporter Ewen MacAskill; Timothy Olyphant as a CIA agent who befriends Snowden; and Nicolas Cage as a former intelligence official.