Michael Bay In Talks For 'Transformers 5'; Animated Cybertron Origin Movie Confirmed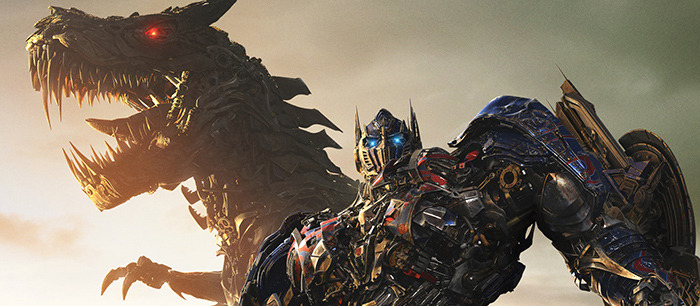 The much-discussed Transformers writers room at Paramount has done its work, and there's now a plan to move forward. That plan may be just a bit more limited than some expected; there is no giant slate of Transformers movies coming down the line. But there is a solid plan for Transformers 5, which Michael Bay will direct next year. (As solid a plan as there can be for a Transformers film, I guess.)
And the animated prequel movie is official. That one will indeed be an origin story focusing on the planet Cybertron.
Update from Editor Peter Sciretta: Transformers series director Michael Bay took to twitter to explain that he is not yet committed to directing a fifth Transformers film. Here is what he said:
Re: directing TF5. No, it's not official. I have not committed to any idea as of yet. Just met with Steven and we are discussing.

— Michael Bay (@michaelbay) September 17, 2015


The original story follows:Deadline reports that two weeks of work with the writers group featuring Christina Hodson, Lindsey Beer, Andrew Barrer, Gabriel Ferrari , Robert Kirkman, Art Marcum, Matt Holloway, Zak Penn, Jeff Pinkner, Steven DeKnight, and Geneva Robertson-Dworet has closed up shop.
The end result is a Transformers 5 script by Akiva Goldsman, who also ran the writer's room. (We knew Goldman was writing the next proper sequel.) That film, Deadline says, will star Mark Wahlberg and is tentatively scheduled to shoot next June under the direction of Michael Bay. This one will probably be the last film Bay directs in the series.
And then there's the animated prequel which will take place on Cybertron. That one is written by Andrew Barrer & Gabriel Ferrari, who did Ant-Man rewrites. We don't know who'll direct or, in fact, anything much about that film. This is a confirmation that the rumored film is part of Paramount's current plan, but that's about it.
The report says the group "hatched ideas together and collaborated to flesh out the universe of the Hasbro toy line to come up with possible spinoffs, sequels and prequels that they then peeled off and generated treatments." Pitches went through Goldsman to Steven Spielberg, Michael Bay, Paramount, Hasbro's Brian Goldner and Lorenzo di Bonaventura and Mark Vahradian.
Ultimately, about five workable ideas came out of the big brainstorming session, and that's not bad when you consider that this is a film series that seems to have been written on the fly throughout the four movies so far.
One interesting aspect of this story may be how much Paramount invested in this, with Deadline reporting low seven figures paid to each writer in the group — that's a lot of money, about $12m at least, to draw what seems like a pretty loose map. That would finance a few indie features, but for a billion-dollar franchise it's a pretty minor investment. Still, consider what that means for the scale of this series overall, and you'll understand why Paramount is so willing to drop money in to keep it going.