'I Smile Back' Trailer: Sarah Silverman Gets Raw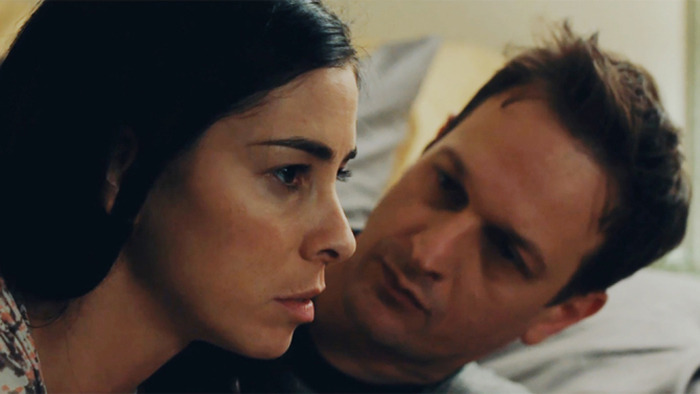 Here's the first trailer for I Smile Back, which features Sarah Silverman in a highly-praised dramatic performance as a woman dealing with overwhelming depression. The film was on our list of fall movies to look out for; written by Amy Koppelman and Paige Dylan and directed by Adam Salky, the film premiered at Sundance earlier this year and will play the Toronto International Film Festival before going into release in October. Check out the I Smile Back trailer after the jump.
I can't get over the implications of Silverman's work in this film. We've seen comedians leap to drama many times before, and it's not always easy to shelve our impressions of someone whose work we know very well in one capacity. But even this little bit of footage makes Silverman's performance look compelling and interesting. I want to see more, regardless of the film built around that performance.
Indeed, reviews out of Sundance were all about Silverman's work. Variety's review is emblematic of many: "Rarely has a performer striven so concertedly to shed any trace of his/her comedy roots as Sarah Silverman does over the course of I Smile Back... Silverman's performance is more than an attention-getting stunt, and it's her hellish rendering of a New Jersey housewife under the influence of drugs, alcohol and mental illness that elevates director Adam Salky's sophomore feature above the suburban-nightmare movie-of-the-week it otherwise often resembles."
Even if I Smile Back is the sort of Sundance drama I generally prefer to avoid, knowing it is anchored by a unique and surprising performance is enough to overcome other doubts or issues. That, in a way, marks this movie as being in a league with 2014 films like Cake and Still Alice, where the film might not be up to the level of the central performance, but that lead actor's work makes the film impossible to ignore.
I Smile Back opens on October 23. Trailer via Broad Green.
Laney is an attractive, intelligent suburban wife and devoted mother of two adorable children. She has the perfect husband who plays basketball with the kids in the driveway, a pristine house, and a shiny SUV for carting the children to their next activity. However, just beneath the façade lie depression and disillusionment that send her careening into a secret world of reckless compulsion. Only very real danger will force her to face the painful root of her destructiveness and its crumbling effect on those she loves.