Rumor: Marvel Wants Rebecca Ferguson For 'Captain Marvel'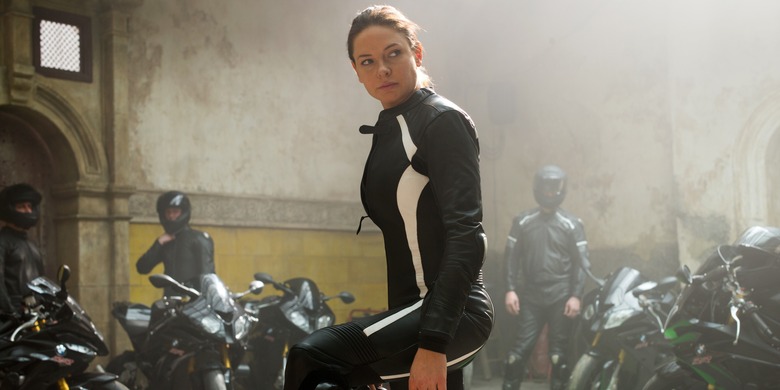 They say that movie concepts and characters are the real movie stars now, rather than the actors who bring them to life. One of the few remaining legit stars is Tom Cruise, even though Edge of Tomorrow and Jack Reacher proved that his name won't still open a movie in the US in the way that movie stars once could. Cruise can help mint new potential stars, however, and the breakout talent that he lent the spotlight to in this summer's Mission: Impossible – Rogue Nation was Rebecca Ferguson.
Ferguson was quickly shortlisted for Gambit before she decided instead to work with another former Cruise associate, Emily Blunt, in thriller The Girl on the Train. But there's a new Captain Marvel casting rumor that says Ferguson is Marvel's top choice for the lady hero who will topline the 2018 release.
It's Heroic Hollywood reporting that Rebecca Ferguson, the Swedish actress who had already been in The White Queen and Hercules before getting the showstopping role of Ilsa Faust in Rogue Nation, is the center of Marvel's attention for Captain Marvel.
Nicole Perlman (Guardians of the Galaxy) and Megan LeFauve (Inside Out) are writing what will be Marvel's 20th film. We don't know what story approach they're taking, and that uncertainty, combined with Marvel's overall universe-building efforts, have led to some speculation.
In short, we've wondered if the story centered around Carol Danvers will actually begin in a film prior to Captain Marvel's release. It's probably (but not absolutely) too late to add the character to Civil War, and She could also theoretically show up in the Guardians of the Galaxy sequel, but even that is two years away, and James Gunn seems like the least likely person to play along with adding a new character for the good of the overall Marvel Universe.
She could also show up in the first part of Infinity War — which would, in fact, make the most sense — but that film is also more than two years off, with a May 2018 release.
All of which to say is: could it be way too early to cast Captain Marvel? There's just over three years until the film is released, so if the lead wasn't cast until next summer we wouldn't be surprised at all. So this casting rumor seems super-premature, unless there's a plan for Carol Danvers to show her face in Civil War.
And, of course, we also wonder how this plays in to the recent power shift at Marvel Studios, where Kevin Feige now reports directly to Disney instead of Marvel's CEO Ike Perlmutter. It was reportedly Perlmutter who blocked efforts to create a Marvel film centered on a female character. With that shift at Marvel, we also wonder if Feige is taking advantage of his new position to get to Captain Marvel earlier than planned, and in so doing lock in one of the hottest talents of 2015.
Captain Marvel is currently slated for November 2, 2018 release.