'Our Brand Is Crisis' Trailer: Sandra Bullock And David Gordon Green Team Up For A Political Satire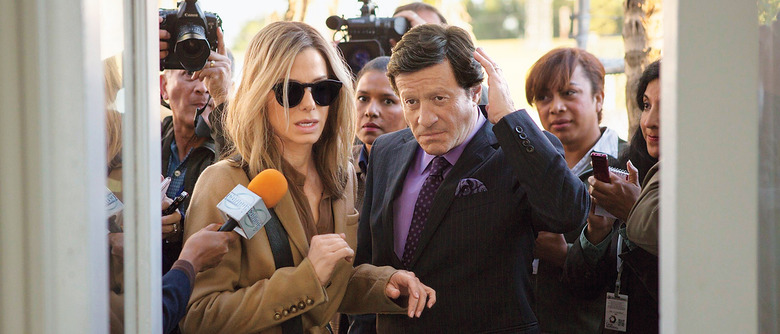 Director David Gordon Green sure likes to keep us guessing. After a string of studio comedies, followed by a microbudget indie and a couple of dramas, he's back on screens this fall with the political satire Our Brand Is Crisis. Sandra Bullock leads the cast as Jane, an American political strategist hired to work with a lagging Bolivian presidential candidate (Joachim de Almeida).
Billy Bob Thornton plays Jane's professional rival. Anthony Mackie, Zoe Kazan, Ann Dowd, and the ubiquitous Scoot McNairy also star. Watch the first Our Brand Is Crisis trailer after the jump.
Warner Bros. unveiled the Our Brand Is Crisis trailer on YouTube. If the contents of the trailer seem kind of alarming, keep in mind it's based on a 2005 documentary directed by Rachel Boynton, about the real-life 2002 Bolivian presidential elections.
Our Brand Is Crisis premieres later this week at TIFF before landing in theaters October 30. George Clooney and Grant Heslov (Argo, The Monuments Men) serve as producers.
A Bolivian presidential candidate failing badly in the polls enlists the firepower of an elite American management team, led by the deeply damaged but still brilliant strategist "Calamity" Jane Bodine (Bullock). In self-imposed retirement following a scandal that earned her nickname and rocked her to her core, Jane is coaxed back into the game for the chance to beat her professional nemesis, the loathsome Pat Candy (Thornton), now coaching the opposition.
But as Candy zeroes in on every vulnerability – both on and off the campaign trail – Jane is plunged into a personal crisis as intense as the one her team exploits nationally to boost their numbers. Dramatic, rapid-fire and laced with satire, "Our Brand is Crisis" reveals the cynical machinations and private battles of world-class political consultants for whom nothing is sacred and winning is all that matters.