'Krampus' First Look Photos: 'Trick 'R Treat' Director Michael Dougherty Catches The Holiday Spirit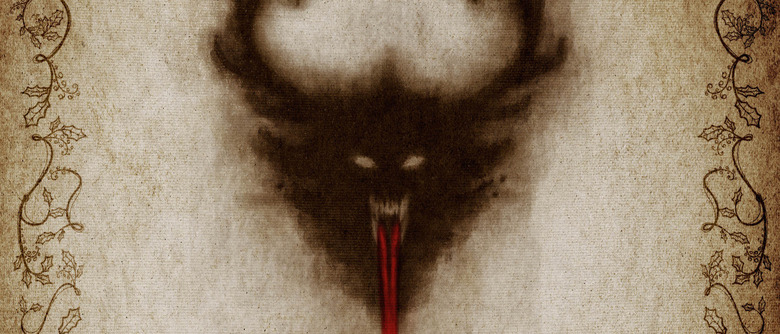 If you prefer your Christmas cheer with a touch of terror, Krampus may be right up your alley. Directed by Michael Dougherty (Trick 'r Treat), the horror-comedy-fantasy follows a dysfunctional family (played by Adam Scott, Toni Collette, Emjay Anthony, and more) visited by a magical holiday spirit.
Unfortunately for them, Krampus isn't a kind and giving entity like Santa Claus, but rather a demon who punishes those who've been naughty. Get your Krampus first look after the jump.
USA Today debuted the Krampus first look photos.
The horror in Krampus begins when young Max (Anthony) loses faith in Christmas after spending time with his squabbling family. Then a blizzard and a blackout hit their home, heralding the arrival of Krampus and his sinister helpers. The family is forced to bond together if they want to survive.
In European folklore, Krampus is a mythical figure who serves as a sort of dark mirror to Santa Claus. But as Dougherty points out, Santa Claus himself is kind of creepy to begin with – specifically, the idea "that there is some sort of supernatural entity that keeps an eye on you all year long and determines if you're naughty or nice," he noted.
Dougherty based his version of Krampus on old illustrations of the character, where he is typically portrayed with horns and hooves. In terms of the monster's personality, Dougherty envisions Krampus as less evil ("He's more complex and nuanced than that") than mischievous:
He's not Freddy (A Nightmare on Elm Street) or Jason (Friday the 13th) or Leatherface (The Texas Chainsaw Massacre), this unstoppable monster that kicks down your door and rampages and grabs you. If you study the myth, there's something darkly playful about him. He's having a good time doing what he does and he enjoys the cat-and-mouse aspect of it.
Though Krampus puts a horror-movie spin on the usual Christmas tropes, Dougherty explains, it taps into some of the same emotional aspects as other holiday classics:
A Christmas Carol and It's A Wonderful Life are kind of nightmares that show you these broken characters who experience a darker side of divine intervention. They need to be scared straight. So it was important to elevate it. If you do a horror film without an emotional core, you don't really have much.
Krampus arrives in theaters December 4, 2015. David Koechner and Allison Tolman also star.
Legendary Pictures' Krampus, a darkly festive tale of a yuletide ghoul, reveals an irreverently twisted side to the holiday.
When his dysfunctional family clashes over the holidays, young Max (Emjay Anthony) is disillusioned and turns his back on Christmas. Little does he know, this lack of festive spirit has unleashed the wrath of Krampus: a demonic force of ancient evil intent on punishing non-believers.
All hell breaks loose as beloved holiday icons take on a monstrous life of their own, laying siege to the fractured family's home and forcing them to fight for each other if they hope to survive.