Kevin Feige Almost Quit Marvel Over 'Civil War' Disagreements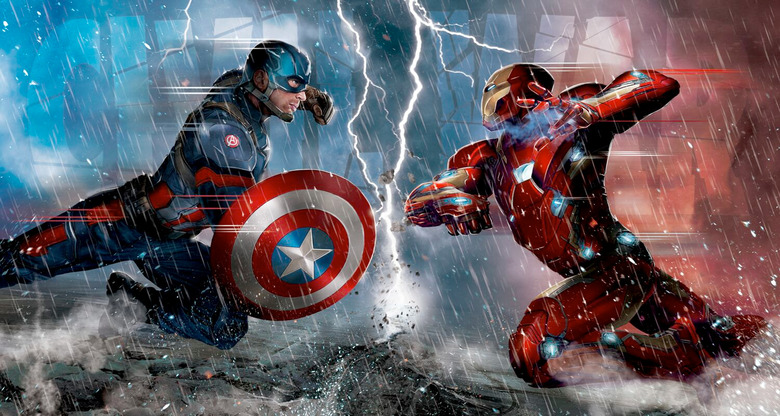 It seems Captain America: Civil War caused its own lower-case civil war at Marvel Studios. A new report says Marvel Studios president Kevin Feige threatened to quit over disagreements with Marvel Entertainment CEO Ike Perlmutter about the ballooning budget of the film, leading to the corporate reshuffling we heard about earlier this week. Read all about the Kevin Feige Ike Perlmutter Civil War drama after the jump. 
If you've been following along with our Captain America: Civil War coverage, you know it has a huge cast. Just about everyone who's ever appeared in an Avengers movie is on board, including heavyweights Chris Evans and Robert Downey Jr. and new Spider-Man Tom Holland. In fact, THR notes it's been nicknamed Avengers 2.5 for its sprawling cast and scope.
But a cast that large comes with a correspondingly large budget, and Perlmutter wasn't too happy about that. The CEO is famous for his frugality, which he applies to everything from talent contracts to office supplies. In fact, it might be the only thing he's famous for among typical Marvel fans, since he has preferred to stay out of the spotlight and let Feige serve as the public face of the franchise.
Perlmutter and the Marvel Creative Committee — which includes Marvel Entertainment president Alan Fine, Marvel Comics writer Brian Michael Bendis, Marvel Comics publisher Dan Buckley, and Marvel Entertainment CCO Joe Quesada – tried to "scale down" Civil War. Feige wasn't having it, and considered leaving Marvel altogether before Disney CEO Bob Iger agreed to change the corporate structure so Feige would no longer answer to Perlmutter.
Civil War was only the final straw in the long-simmering tensions between Feige and Perlmutter, however. Bleeding Cool reports it was the relative failure of Avengers: Age of Ultron that gave Feige the leverage to push Perlmutter out of his way, and lessen the influence of the Marvel Creative Committee. While the film made money and got decent reviews, it didn't do as well on either front as Marvel had hoped.
(Interestingly, they also claim the committee didn't have much say over that film, and that it was Feige's choices that necessitated extensive, pricey reshoots. If all of the above is true, that's some masterful maneuvering on Feige's part.)
As we've said before, it'll be a while before really feel the consequences, good or bad, of the Feige / Perlmutter split. For all the differences between the two men, their partnership has yielded 12 massively successful, mostly very good movies. Lots of fans (us included) are hoping it'll mean more creativity and diversity for the Marvel Cinematic Universe, but we'll have to wait a couple years to see how it actually plays out in practice.
One expected result is better deals for the talent. Marvel is notoriously cheap, but industry insiders are hoping that with Perlmutter no longer calling the shots, they studio will loosen up a bit. That could have huge ramifications for the franchise going forward. In the past, Perlmutter's legendary frugality has led to Don Cheadle replacing Terrence Howard as Rhodes, and almost led to Iron Man being cut out of Captain America 3 (what is now called Civil War) entirely.