'Goosebumps' Trailer #2: R.L. Stine's Creations Come To Life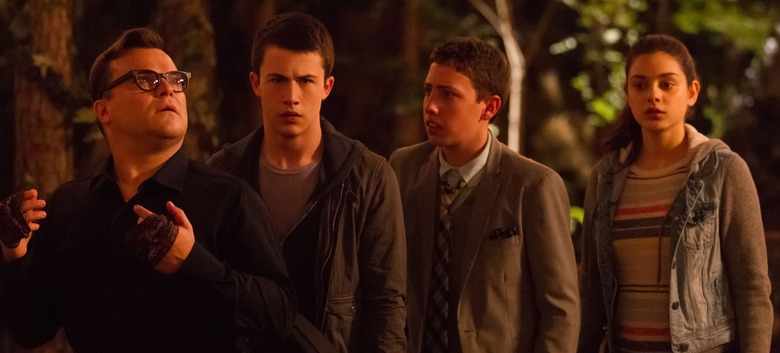 When Sony acquired the rights to R.L. Stine's Goosebumps books, we wondered which volumes they'd choose to adapt. The original series yielded 62 novels between 1992 and 1997, and that's not counting the various specials and spinoffs that were also part of the franchise.
The answer, it turned out, was all of them. In the movie, all the monsters Stine (played by Jack Black) has written about are real, and it's only his careful protection that keeps him away from the rest of us. When his new neighbor Zach (Dylan Minnette) accidentally lets them loose, they must scramble to stop the monsters from taking over the town. Odeya Rush plays Stine's daughter. Watch the latest Goosebumps trailer after the jump.
Sony debuted the latest Goosebumps trailer on YouTube.
It's a clever take on the property, and the trailer does a good job of capturing the books' tone, which was always more spooky and funny than flat-out scary. Goosebumps has a pretty great supporting cast, too, including Amy Ryan, Ken Marino, Ryan Lee, Jillian Bell, and Kumail Nanjiani. The film is out October 16.
Upset about moving from a big city to a small town, teenager Zach Cooper (Dylan Minnette) finds a silver lining when he meets the beautiful girl, Hannah (Odeya Rush), living right next door. But every silver lining has a cloud, and Zach's comes when he learns that Hannah has a mysterious dad who is revealed to be R. L. Stine (Jack Black), the author of the bestselling Goosebumps series. It turns out that there is a reason why Stine is so strange... he is a prisoner of his own imagination – the monsters that his books made famous are real, and Stine protects his readers by keeping them locked up in their books. When Zach unintentionally unleashes the monsters from their manuscripts and they begin to terrorize the town, it's suddenly up to Stine, Zach, and Hannah to get all of them back in the books where they belong.