'Black Mass' Early Buzz: A Return To Form For Johnny Depp?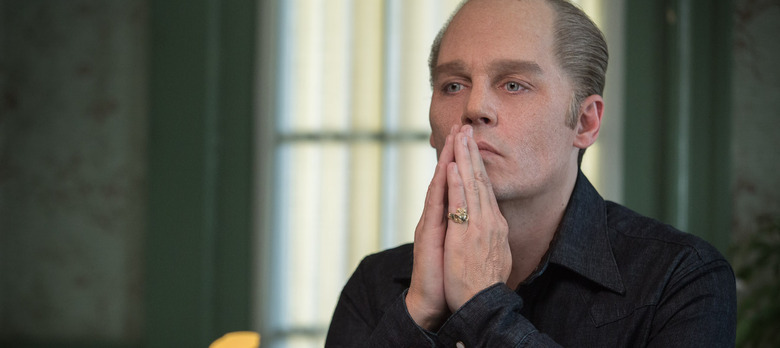 There are plenty of reasons to be intrigued by Black Mass — its fascinating real-life inspiration, that absolutely stellar cast, director Scott Cooper — but the main question on everyone's minds seems to be what it means for Johnny Depp's career.
While Depp has been on a losing streak since sometime around Dark Shadows, the first trailer for Black Mass suggested a possible return to form. And now the results are in, following the film's Venice Film Festival premiere. Get the Black Mass early buzz after the jump. 
Black Mass centers on real-life gangster Whitey Bulger, who rose to power in the 1970s and 1980s by teaming up with an FBI agent (Joel Edgerton) to cut down the competition. Benedict Cumberbatch plays Whitey's brother, a successful politician, and Dakota Johnson is Whitey's wife. Julianne Nicholson, Kevin Bacon, Jesse Plemons, and Corey Stoll are among the many, many other high-profile actors who appear.
So far, Black Mass has received mostly good reviews, some more measured than others. The good news for Depp fans is that Whitey Bulger does seem to be a step up for him. Though he's still buried under a veritable mountain of makeup and prosthetics, it sounds like there's some actual, y'know, acting going on. Here are a few select reactions.
Jessica Kiang at The Playlist (B-):
[I]t almost is the comeback performance we've all wanted so much — it's certainly the most interesting thing he's done in ages, and he never feels less than committed — and no doubt there will be those who'll champion it as such. But amid a cast of ringers, beautifully costumed and caressingly photographed who get to act with their real faces, Depp is encased in a helmet of makeup and prosthetics that make him look ghostly, corpse-like, lizard-y and sometimes like a literal incarnation of the devil. [...] This feels like a rare case where a live action performance falls into what animators call the "uncanny valley" — the narrow but unbridgeable gap that exists between something realistic and something real.
Tommaso Tocci at The Film Stage (B-):
Expectations of Depp are high on this one, now that audiences seem to have finally tired of his infamous cartoonish performances. The role of Jimmy presents a nice opportunity for some middle ground between those and his more 'serious' turns – this time he plays a gangster (like in Donnie Brasco, Blow, Public Enemies) and he can do his thing behind a mask. Pale, blue-eyed and bald – if not for the white tufts of hair seemingly about to take off from the sides of his head – he looks like Goodfellas' Ray Liotta in an advanced stage of transformation into Gary Oldman's Dracula. Depp's magnetism serves the character well, even buried underneath the glacial menace of a man whose mission in life seems to be the manipulation of others.
Geoffrey MacNab at The Independent (3/5):
Black Mass is a triumph of sorts for Depp. It shows him tapping a malevolence and cruelty that many fans would never have guessed was in him. As a gangster movie, though, it is a frustrating and strangely dour affair. Bulger's success lay in the fact that he was smart, ruthless and never showed emotion. He is simply too inscrutable and aloof a figure to make a satisfactory anti-hero. Movie villains don't come any less loveable than this.
Peter Bradshaw at The Guardian (4/5):
Cooper and his screenwriters Mark Mallouk and Jez Butterworth have something substantial to add to the genre: making the point that gangsters do not arise from nowhere like comic-strip supervillains. They are the symptoms of political corruption, parasites created by agencies of the state, and by weak, credulous law enforcement officials who are content to sub-contract policing to the bad guys.
[I]f Johnny Depp's mesmerizing performance — a bracing return to form for the star after a series of critical and commercial misfires — is the chief selling point of "Black Mass," there is much else to recommend this sober, sprawling, deeply engrossing evocation of Bulger's South Boston fiefdom and his complex relationship with the FBI agent John Connolly, played with equally impressive skill by Joel Edgerton.
Depp [...] takes control of the proceedings from the outset and never yields it, except for when he disappears for a while in the second half. He's as charismatic as his character must be, fully convincing and frightening as his Bulger toys with friends and enemies alike to keep them guessing, hides his true intentions and dishes out punishment at an alarming rate. Depp's instinct for observing, underlaying and keeping things in, then letting it all out when required, pays big dividends here in a performance far more convincing than his previous big gangster role, John Dillinger in Michael Mann's Public Enemies.; it's unexpected, very welcome at this point in his career, and one of his best.
While "Black Mass" is frequently engrossing, it has occasional pacing issues; some characters (like Dakota Johnson, playing the mother of Bulger's child) disappear sooner than you'd imagine, while the film's last act could stand to lose 15 or 20 minutes. (If the movie starts with hoods turning state's evidence, thus guaranteeing the plot's outcome, we shouldn't notice how long it's taking to get to the finish line.)
Black Mass lands in theaters September 18, 2015.