Sequel Bits: 'Mad Max,' 'Maze Runner,' 'Wolverine,' James Bond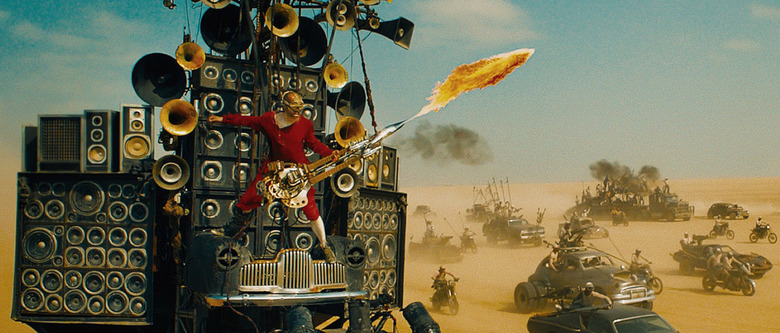 We'll lead off this edition of Sequel Bits with a clip from a Mad Max: Fury Road special feature that focuses on the creation of one of the most attention-getting aspects of the film: the Doof Wagon and its accompanying rider/musician/standard bearer, Coma the Doof Warrior.
In addition to that footage, we've got the following:
There's a new clip from Maze Runner: The Scorch Trials,
And one from Hotel Transylvania 2,
New reports arrive of a Wreck-It-Ralph sequel,
Talk about the next James Bond is heating up,
Sabertooth is probably not in Wolverine 3,
Sony may already be developing a Goosebumps sequel.
Here's the Mad Max: Fury Road clip. The film is on blu-ray now, and will be back in IMAX theaters for a wide release one week starting on September 11.
Here's a new clip from Maze Runner: The Scorch Trials, in which Thomas (Dylan O'Brien) has races back to the Gladers with knowledge about an organization called WCKD, while Aiden Gillen's character Janson leads soldiers to the Gladers' location.
In this next chapter of the epic "Maze Runner" saga, Thomas (Dylan O'Brien) and his fellow Gladers face their greatest challenge yet: searching for clues about the mysterious and powerful organization known as WCKD. Their journey takes them to the Scorch, a desolate landscape filled with unimaginable obstacles. Teaming up with resistance fighters, the Gladers take on WCKD's vastly superior forces and uncover its shocking plans for them all.
Maze Runner: The Scorch Trials will be released on September 18, 2015. The film stars Dylan O'Brien, Kaya Scodelario, Thomas Brodie-Sangster, Giancarlo Esposito, Aidan Gillen, Barry Pepper, Lili Taylor, and Patricia Clarkson.
Here's a Hotel Transylvania 2 clip, with... bike stunts? OK, sure, why not.
In the sequel to Sony Pictures Animation's 2012 hit, Dracula (Adam Sandler) and the gang work feverishly to teach his adorable half-human, half-vampire grandson to be a monster before Mavis and Jonathan (Selena Gomez and Andy Samberg) decide to pull up stakes and move the little tyke somewhere safer than Hotel Transylvania.
Opening September 25, Hotel Transylvania 2 also stars Mel Brooks, David Spade, Kevin James, Steve Buscemi, Fran Drescher, Keegan-Michael Key, Molly Shannon, Nick Offerman and Megan Mullally.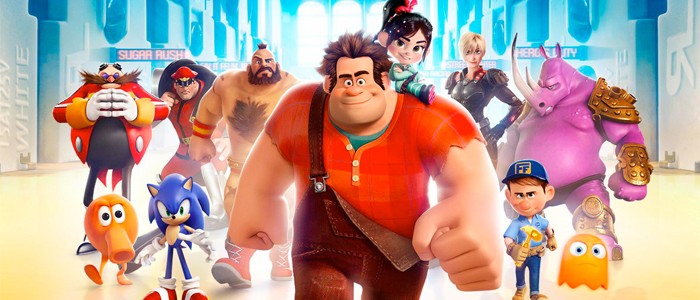 Stitch Kingdom reports that a trade blog representing the union handling animators (IATSE Local 839) has info on developments for a few projects over at Disney Animation. Nestled amongst listings for Disney Animation projects we knew about (like Moana and Gigantic) is a listing for Wreck-It Ralph 2. John C. Reilly had said just before D23 that he is attached to the sequel, and this report suggests it is moving forward. We have no other details at this time.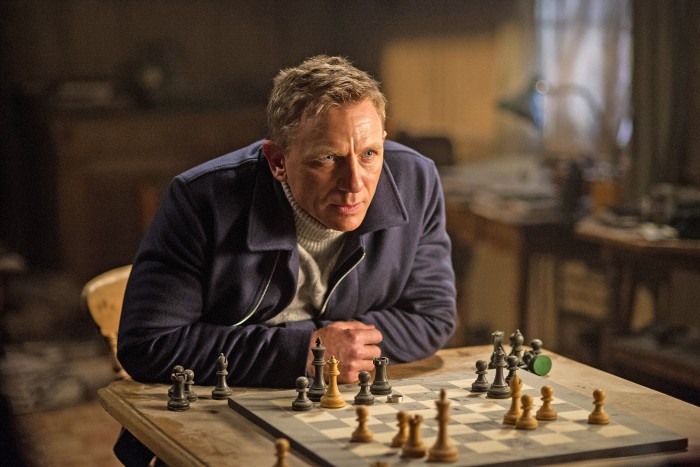 Look, everyone, Spectre isn't even out yet, so can we cool it with talk about who the next Bond will be after Daniel Craig? We don't even know if this is Craig's final Bond movie. (It might be. But it might not be.) It could be Idris Elba, who is brushing off comments from a current Bond novel author about his unsuitability for the role with grace and style:
At the same time, Jessica Chastain throws her hat in the ring for a villain role. Which sounds like a great thing, the only problem being that said role doesn't yet exist. Perhaps it will!
If he was Bond I'd play ANYTHING in that film, but yes, a villain could be fun. ; ) https://t.co/jrvpuHuLqJ

— Jessica Chastain (@jes_chastain) September 1, 2015
Meanwhile, Irish bookmaker Boyle Sports is laying odds on the next Bond being Tom Hardy, with a spokesperson saying, via Variety, "The Next James Bond market has certainly come alive with all the support coming in for Tom Hardy, who is now 4/1 from 6/1 to take over from Daniel Craig."
Hey, EON, do you have a mole in your ranks? Sounds like a job for... what's that guy's name again?
Oh, and Tom Ford has confirmed that he has provided dapper threads for that current Bond movie, Spectre. We'll see it in November. There's a new poster right here. You can read Ford's press release about new Bond suits over at Birth.Movies.Death.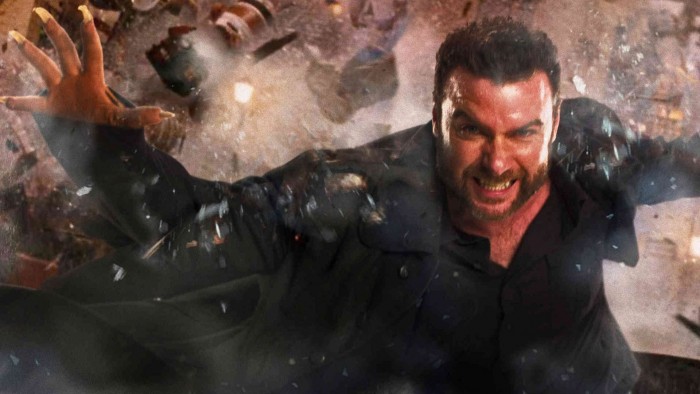 Some back and forth tweets between Liev Schreiber and Hugh Jackman suggested that Schreiber might be reprising his X-Men Origins role as Sabertooth for the third Wolverine film. The actor now says, however, that wasn't what he meant to imply. On The Tonight Show, he told Jimmy Fallon,
People have surmised that from my tweet, but I wasn't. I was really just saying is that something I have to do as I get older. Is that how I approach middle age? Like that.
Pressed on whether he'd like to do the film, he said,
Well, what I heard was... I don't know if I'm invited... But I heard that the storyline is Old Man Logan. And when I heard that, I thought, 'Well, you know there's old man Logan, there could be old man Sabretooth.' The two of us like walkers.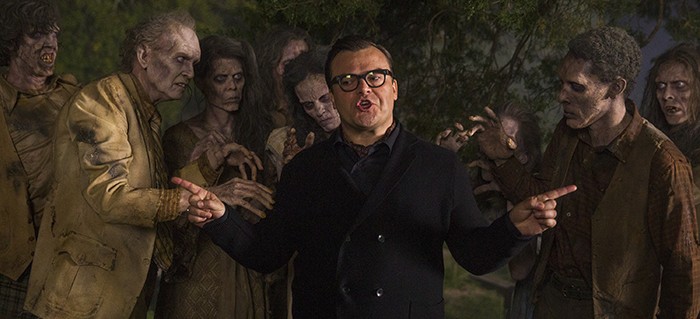 Finally, The Tracking Board reports that Sony is already at work on a Goosebumps sequel, despite the fact the first film doesn't open until October 16. That wouldn't come as much of a surprise; if the first film is a success, having work done on a sequel would put Sony in a position to quickly exercise options on Jack Black, Dylan Minnette, and Odeya Rush.
We don't know if Rob Letterman (Monsters vs Aliens), who directed the first film, would return. But the whole thing is speculative until the October release gets into theaters and Sony begins to collect receipts.