'Avengers: Age Of Ultron' Gag Reel: Even Earth's Mightiest Heroes Flub Their Lines Sometimes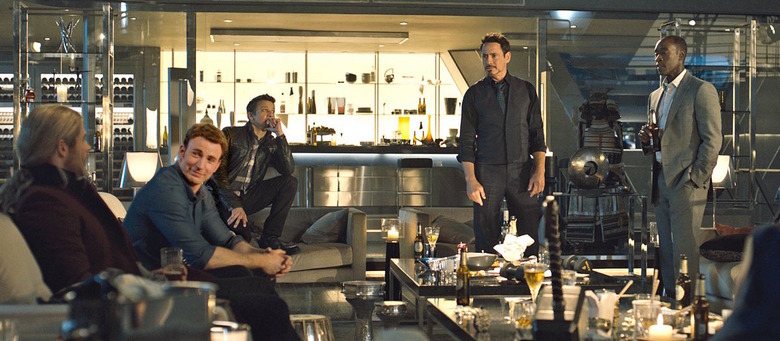 While Avengers: Age of Ultron isn't completely devoid of humor, there's not a whole lot of time for jokes when everyone's too busy trying to save the world. The making of Avengers: Age of Ultron, on the other hand, looks like a much more lighthearted affair, full of jokes, screw-ups, and general silliness. Watch the Avengers: Age of Ultron gag reel after the jump.
Yahoo posted the Avengers: Age of Ultron gag reel. Well, part of the Avengers: Age of Ultron gag reel. To watch the whole thing, you'll actually have to wait for the home video release.
Among other things, it reveals how the last line of the movie ends: not with a dramatic, rousing speech, but with cute "gotcha!" smile from Cap and a jokey command to "assemble!" from Black Widow. It also demonstrates that Mark Ruffalo's command of scientific jargon is considerably less impressive than Bruce Banner's, that Erik Selvig might be kind of a skeeze, and that not even a "KICK ME" sign printed in Comic Sans can make the Hulkbuster look less intimidating.
The Avengers: Age of Ultron gag reel will be included as a bonus feature on the DVD / Blu-ray, out October 2. Get more details on the Avengers: Age of Ultron home video release here.
Marvel Studios presents "Avengers: Age of Ultron," the epic follow-up to the biggest Super Hero movie of all time. When Tony Stark tries to jumpstart a dormant peacekeeping program, things go awry and Earth's Mightiest Heroes, including Iron Man, Captain America, Thor, The Incredible Hulk, Black Widow and Hawkeye, are put to the ultimate test as the fate of the planet hangs in the balance. As the villainous Ultron emerges, it is up to the Avengers to stop him from enacting his terrible plans, and soon uneasy alliances and unexpected action pave the way for an epic and unique global adventure.