The Back Of Kylo Ren's Helmet Revealed, But What Does It Tell Us?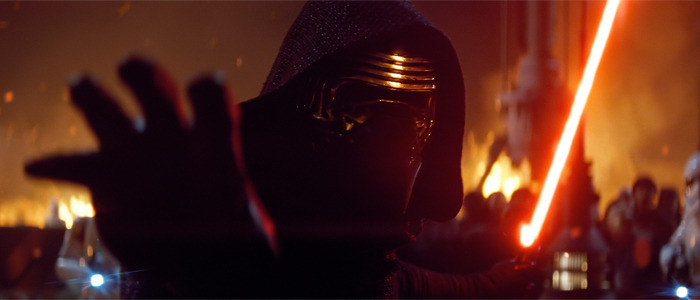 We've seen a lot of images of Star Wars: The Force Awakens villain character Kylo Ren, but never without his hood. During the official StarWars.com live unboxing of the first Star Wars: The Force Awakens toys in advance of "Force Friday" tomorrow, a new Kylo Ren figure was revealed and the hosts even gave us a look at whats under the hood. Could this reveal have larger story implications? Hit the jump, to see the images and read some fan speculation about how Ren's helmet may play into the Episode VII story.
The new 31-inch Kylo Ren figure was revealed during the 18-hour live Star Wars: The Force Awakens toy unboxing event today. But the back of Kylo Ren's helmet is all that fans are talking about.
Yes, the back of Kylo Ren's helmet looks a lot like the back of Darth Vader's iconic helmet.
"You can see his helmet, the helmet is in... from what we've been reading online, especially on the website and in interviews, it's possible he modelled it after Darth Vader," said the host. "Because that's someone he was really, really into and had an affection towards. But we'll have to see in the movies."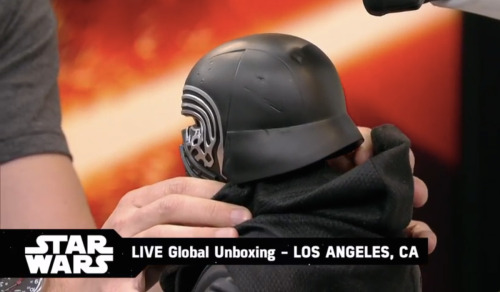 JJ Abrams has described Kylo Ren as a "Vader obsessive."
"The movie explains the origins of the mask and where it's from, but the design was meant to be a nod to the Vader mask," said Abrams. "[Ren] is well aware of what's come before, and that's very much a part of the story of the film."
Some fans are now speculating that Kylo Ren's helmet is not just inspired by Darth Vader's helmet, but may actually be Vader's helmet repurposed. IGN notes:
Like Kylo Ren's infamous crossguard lightsaber, the helmet has a frenzied homemade look to it. The hull is pockmarked with dents and scrapes giving it a well-worn, or secondhand look. It lends to the theory that it was assembled using Darth Vader's helmet.
I love the theory but I'm not sure I buy that explanation. The image above, from the second Star Wars: The Force Awakens teaser, shows that Darth Vader's helmet has been extremely mangled. But that doesn't mean that the helmet couldn't be be reformed. And surely the person who holds Vader's helmet remains is most likely Kylo Ren. So you never know.