'Luke Cage' Brings In Simone Missick As Misty Knight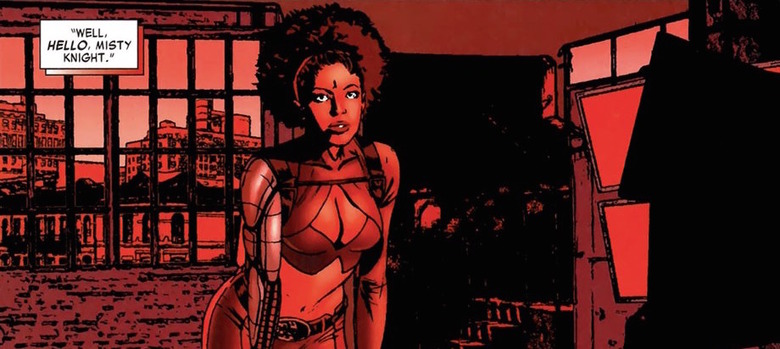 Hot on the heels of yesterday's news about Theo Rossi and Rosario Dawson, Luke Cage is rounding out its core cast with Simone Missick. She's just been cast as Misty Knight, whom Marvel Comics fans will know is linked to both Luke Cage and Netflix's next Marvel hero, Iron Fist. Read all about the Luke Cage Misty Knight casting after the jump. 
Deadline revealed the Luke Cage Misty Knight casting. Missick is a relatively unknown actress whose recent credits include a guest spot on Ray Donovan. Cheo Hodari Coker (Ray Donovan, Southland) serves as showrunner and executive producer.
In the comics, Misty Knight is a talented NYPD officer who loses her arm to a bomb while on the job. She's given a new bionic arm by Tony Stark, which gives her superhuman strength. She later opens a private detective agency with her best friend Colleen Wing.
It's also worth noting that Misty Knight is a frequent love interest to Iron Fist in the books. If that element of the character carries over into the show, we can probably expect to see her resurface in Iron Fist, which follows Luke Cage next year. All four of Netflix's Marvel heroes (Daredevil, Jessica Jones, Luke Cage, and Iron Fist) will later team up for a miniseries called The Defenders.
Luke Cage stars Mike Colter as the title character, a former gang member who's wrongly accused and sent to prison. While there, he undergoes an experiment that grants him super-strength and near-indestructible skin. Once he escapes, he sets himself up as a hero for hire. The character will first debut on Netflix's Jessica Jones later this year.Alfre Woodard plays the older female lead role of Black Mariah, a local politician and one of Luke Cage's villains. Rossi will play another baddie, a smooth-talking criminal called Shades (a.k.a. Alvarez). Dawson reprises her role as Claire Temple from Daredevil and Jessica Jones.