Nickelodeon Looking To Revive Some Of Its Old Shows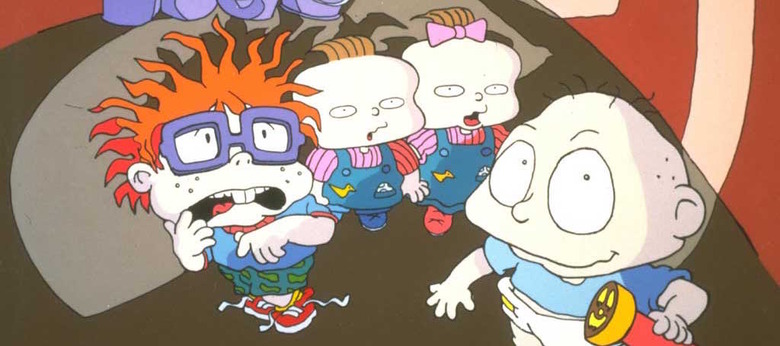 Our collective nostalgia for all things '90s has already resurrected Boy Meets World, Full House, The X-Files, and Twin Peaks. Now it could bring back some of our old Nickelodeon favorites as well. The cable network is looking to bring revamped classics back to its slate, all the better to appeal to modern parents who grew up watching them as kids. Read about the Nickelodeon revival plans after the jump. 
Russell Hicks, the network's president of content and development, spilled the Nickelodeon revival news to Variety. "We are looking at our library to bring back ideas, shows that were loved, in a fresh new way," he said. What those "fresh new ways" might be is unclear. A revival wouldn't necessarily have to take the form of a new series; it could also be presented as a movie or one-off special.
Hicks declined to reveal which shows were under consideration for the Nickelodeon revival plans. Don't expect a wholesale return to classic Nick, though, as the revamped programs are expected to be only a small part of the company's development efforts.
Nickelodeon first came into existence in the late '70s, but really hit its stride in the '80s and '90s. Its hit programs have included cartoons like Doug, Hey Arnold!, Rocko's Modern Life, and Rugrats, live-action series like Clarissa Explains It All, The Secret World of Alex Mack, The Adventures of Pete & Pete, and Salute Your Shorts, and competition shows like Guts, Double Dare, and Legends of the Hidden Temple.
As Hicks notes, the generation who grew up watching classic Nickelodeon shows are now grown-ups with kids of their own. A Nickelodeon revival could therefore appeal to those parents while getting an entirely new generation hooked on the network's properties. "We are getting ready to bring back some of the ones they've told us multiple times they want to have brought back," said Hicks.
Which Nickelodeon classics do you want to see brought back, and which ones are you hoping they'll leave alone?