'Luke Cage' Adds 'Daredevil's Rosario Dawson And 'Sons Of Anarchy's Theo Rossi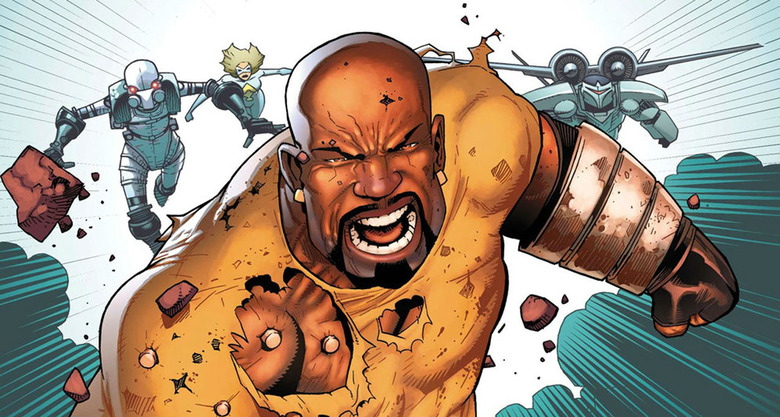 The Netflix branch of the Marvel Cinematic Universe continues to grow. Luke Cage has just added two key players to its lineup: Theo Rossi, who'll play villain Shades, and Rosario Dawson, who'll reprise her role as Claire Temple. Get the details on the Luke Cage Theo Rossi and Rosario Dawson casting after the jump. 
Dawson's Claire Temple will already be familiar to anyone who's seen Season 1 of Daredevil. She also resurfaces in the upcoming Jessica Jones, which would seem to make her the Black Widow or the Nick Fury of the Netflix MCU — a significant character who helps connect the different titles without headlining her own. Claire is a love interest to Luke Cage in the comics, but it's unclear if she'll play a similar role on the show.
As for Rossi, Deadline describes Rossi's character Shades (a.k.a. Alvarez) as a career criminal who's "relentless and menacing, smooth and manipulative, street smart and controlling." In the comics, Shades sports a high-tech visor that allows him to emit optic blasts. He and Luke Cage served time together at Seagate Prison, along with Shades' partner Comanche.
Luke Cage stars Mike Colter as the titular superhero, a former gang member who's wrongfully accused of a crime. While in prison, he volunteers for an experiment that leaves him with super-strength and indestructible skin. He eventually breaks out of jail and becomes a superhero for hire.A rumored synopsis that circulated recently indicated Cage's nemesis in the show would be his childhood friend Willy Stryker (not to be confused with the X-Men's William Stryker), who framed him and had him locked up. Rossi's casting neither confirms nor denies that rumor, since it's possible Cage has multiple enemies.
Besides Colter, Rossi, and Dawson, Luke Cage stars Alfre Woodard as a local politician named Minetta. She seems likely to emerge as the show's version of Black Mariah, a criminal leader who tangles with Luke Cage and others in the comics. Cheo Hodari Coker (Ray Donovan, Southland) serves as showrunner and executive producer.
Luke Cage is the third of four Marvel series planned for Netflix, after Daredevil and Jessica Jones. Iron Fist will be the fourth and last, and then all four lead heroes will team up for a miniseries event titled The Defenders.
Rossi is coming off of a seven-season run on FX's Sons of Anarchy, which ended last winter. He'll next be seen in Low Riders with Demián Bichir and Eva Longoria.