Check Into 'American Horror Story: Hotel' With Three New Teasers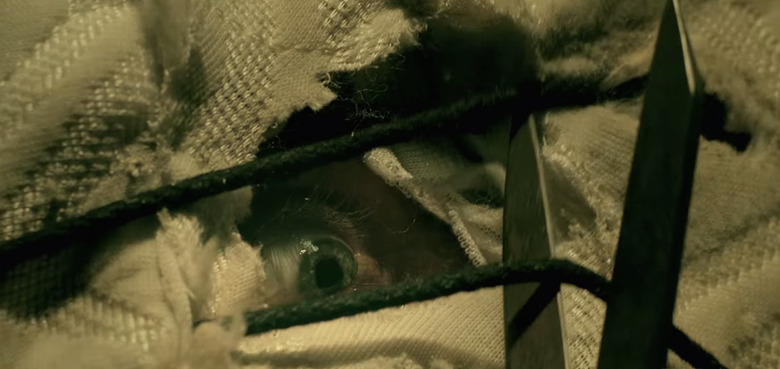 The setting, story, cast, and characters change from year to year, but there's one thing about American Horror Story that always remains the same: The run-up to each season begins with a series of creepy, mood-setting teasers. And so, with the premiere of American Horror Story: Hotel just a few weeks away, FX has served up a nightmarish amuse-bouche in the form of three brief promos. Watch the American Horror Story Hotel teasers after the jump. 
FX unleashed the American Horror Story Hotel teasers on YouTube. The song used in the all the videos is Heidi Feek's cover of "Heartbreak Hotel."
And just to complete the picture, here are the three American Horror Story Hotel teasers released previously.
American Horror Story: Hotel unfolds at the Hotel Cortez in Los Angeles about five years after the events of Season 1, subtitled Murder House. And yes, there will be a crossover. "We do go to the Murder House for one episode," confirmed series creator Ryan Murphy. Throughout the season, we'll see characters from other seasons cropping up, including Season 1 realtor Marcy (Christine Estabrook).
Key players in Hotel include The Countess (Lady Gaga), the glamorous and evil proprietress of the Hotel Cortez; her longtime lover Donovan (Matt Bomer); Donovan's mother Iris (Kathy Bates); the Countess' new boytoy Tristan (Finn Wittrock); the Countess' former lover Ramona Royale (Angela Bassett); junkies Gabriel (Max Greenfield) and Hypodermic Sally (Sarah Paulson); fashion designer Will Drake (Cheyenne Jackson); Vogue editor Claudia (Naomi Campbell); and LAPD detective John Lowe (Wes Bentley).
In addition to all the modern-day drama, the season will feature flashbacks to the 1930s, when the Hotel Cortez was owned by the murderous Mr. March (Evan Peters). He set up his office in Room 64; that's his eye you see in the teaser above.
Also appearing this season will be Chloë Sevigny, Denis O'Hare, Emma Roberts, Lily Rabe, and Darren Criss. Notably not appearing as part of the main cast, for the first time in the series' run, is Jessica Lange. But don't rule out a cameo or a return in future seasons. "She'll be back—she's not gone forever," insists Murphy.
American Horror Story: Hotel premieres October 7.