Michael J. Fox Will Voice A Robot Dog In 'A.R.C.H.I.E.'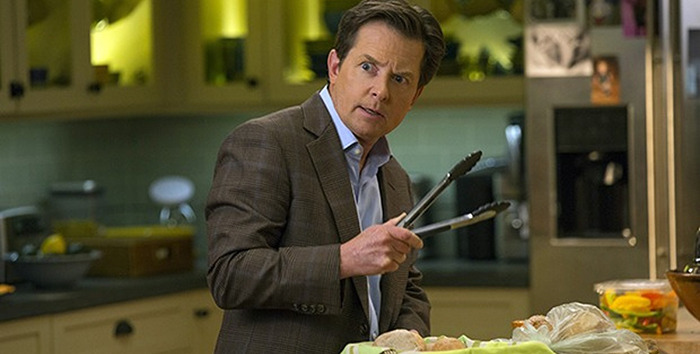 Michael J. Fox has a new movie project, and it follows up on his three-film gig voicing the title character in the Stuart Little movies. Fox will voice a robot dog in A.R.C.H.I.E., a film about a robot dog voiced by Michael J. Fox. In fact, the movie seems to be mostly complete already, but the news of Fox signing on will give it that extra boost every robot dog movie can use.Variety has news of Fox's casting. Here's how writer/director Robin Dunne describes the plot of the film, which stars Katharine Isabelle, Sarah Desjardins, Fred Ewanuick, and Dunne in the main human roles:
ISABEL SULLIVAN (15) has just moved to a small town to live with her uncle PAUL who is the town's mayor. Isabel has recently lost her parents in a car accident. Feeling very alone and friendless, Isabel befriends a stray robot dog named ARCHIE. Though he looks like a normal dog, he is anything but. He can talk. He can run at blinding speed. He's got super strength and x-ray vision. Isabel and Archie become fast friends. She teaches him how to be a normal dog while he helps her to fit in with the cool kid clique. Most of all, Isabel can confide in Archie about what happened to her parents. Archie can relate. He's never had a family – until now. As the summer progresses, things start to get tricky. Paul is up for re-election and finds himself running against VERONICA TAYLOR who happens to be in cahoots with BURGERTROPOLIS – a national fast food franchise that has been trying to buy Paul out for years. What's worse, an evil man named HUGH JABLONSKI shows up in town claiming to be Archie's rightful owner.
I kind of love this, because it sounds like prime '70s era family comedy material. But I am distressed because nowhere in that description do we learn what the acronym A.R.C.H.I.E. stands for. That, my friends, is what is called a hook, and I am now fully caught and ready to be reeled in by this movie's charms.
Wait, though, wait. Robot dog... realistic looking... family movie... how is this not just a spin-off from the 1979 film C.H.O.M.P.S.? (Which, it should be noted, had a pretty sweet poster by Drew Struzan.)
What, you haven't seen C.H.O.M.P.S., the movie about the world's greatest crime-BITER? That's C.H.O.M.P.S., from Dan Chaffey, who also directed Jason and the Argonauts, Pete's Dragon, and One Million Years B.C.? And I thought you liked movies. C.H.O.M.P.S., which stands for Canine HOMe Protection System. See? Now you don't need to see the movie, since I gave away the acronym. Just watch the trailer below.
Some day only a few decades in the future, this could be how we talk about A.R.C.H.I.E.