'Gotham' Season 2 Clip: Jerome Tries To Make A Friend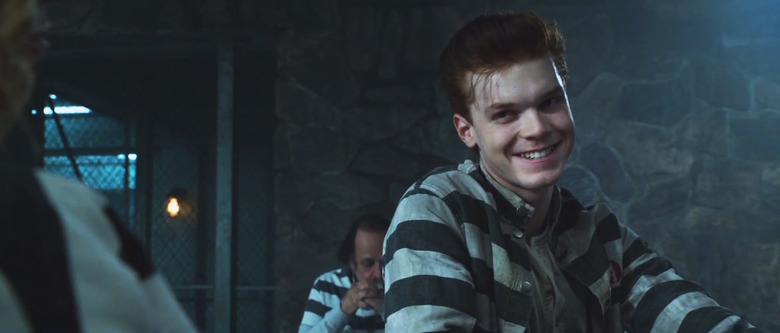 Fox has stressed that Gotham Season 2 will be all about the rise of the villains, so naturally the first Gotham Season 2 clip is set in villain central: Arkham Asylum. Maybe-Joker Jerome (Cameron Monaghan) tries to make a friend, only to be rebuffed by a thoroughly unimpressed Barbara Kean (Erin Richards). Watch the first Gotham Season 2 clip after the jump.
Fox shared the first Gotham Season 2 clip on YouTube.
The mixed reviews for Gotham's first season are proof it's not for everyone, but if you dig its general vibe this scene looks pretty promising. For starters, it looks like Barbara might get more to do this season, after being criminally underused last season. Monaghan seems to be having a lot of fun with his cartoon-villain persona. And you've gotta appreciate Gotham's commitment to its own fanciful, quasi-retro aesthetic. It makes literally no sense for Barbara to be wearing a prison dress instead of regulation prison scrubs, but it works for this show.
Gotham returns to Fox for Season 2 Monday, September 21 at 8 PM.
The good. The evil. The beginning.
Everyone knows the name Commissioner Gordon. He is one of the crime world's greatest foes, a man whose reputation is synonymous with law and order. But what is known of Gordon's story and his rise from rookie detective to Police Commissioner? What did it take to navigate the multiple layers of corruption that secretly ruled Gotham City, the spawning ground of the world's most iconic villains? And what circumstances created them – the larger-than-life personas who would become Catwoman, The Penguin, The Riddler, Two-Face and The Joker?
GOTHAM is an origin story of the great DC Comics Super-Villains and vigilantes, revealing an entirely new chapter that has never been told. From executive producer/writer Bruno Heller ("The Mentalist," "Rome"), GOTHAM follows one cop's rise through a dangerously corrupt city teetering between good and evil, and chronicles the birth of one of the most popular super heroes of our time.