There Might Be A 'Sicario' Sequel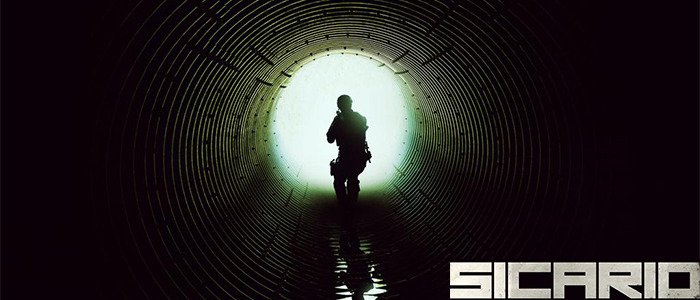 Of any film in current release right now, the one that seems least likely to get a sequel is Denis Villeneuve's drug war thriller Sicario. But that sequel is exactly the one that is supposedly in development right now.
Since most of you haven't seen Sicario yet — it opened in just six theaters this past weekend and will expand over the next couple weeks — we'll keep any specifics until after the break.
Variety says that this is a pretty early effort, but that Lionsgate is working with Sicario screenwriter Taylor Sheridan to get a story together, which would be centered on the character played by Benicio del Toro in the original film. Lionsgate execs have interest in his character, but not having seen the film yet I can't tell you what sort of story there might be for him either in a sequel or prequel sense. The film also stars Emily Blunt and Josh Brolin, but there's no mention of them for the next film.
It's kind of a strange report, though, with the article spending a lot more time talking about the Oscar potential for the film than the possible sequel. (And, sure, we'd be happy to see cinematographer Roger Deakins finally get a statue for shooting this movie.)
Patrick Wachsberger, co-chair of Lionsgate's motion picture group says,
This is a movie that needs word of mouth. It's not an easy title. 'Sicario'? You have to Google that. You're not going to wear a t-shirt of that.
What better word of mouth than early talk of a sequel? People wear t-shirts for sequels; saying the studio likes the movie enough to get another one going this early isn't the worst pitch I've heard. (Lionsgate's PR, by the way, has been sending out Sicario t-shirts as part of the promo push for the movie. They're pretty neat-looking, and people would totally wear them.)
Sicario did well in its six-theater opening this past weekend, with a great per-screen average. At $66,881 the film had the highest per-screen average of the year, in fact. We'll see how it does when the film goes to eleven more cities this coming weekend and then goes wide on October 2.