'The Shannara Chronicles' Trailer: MTV Tackles Terry Brooks' Sprawling Fantasy Epic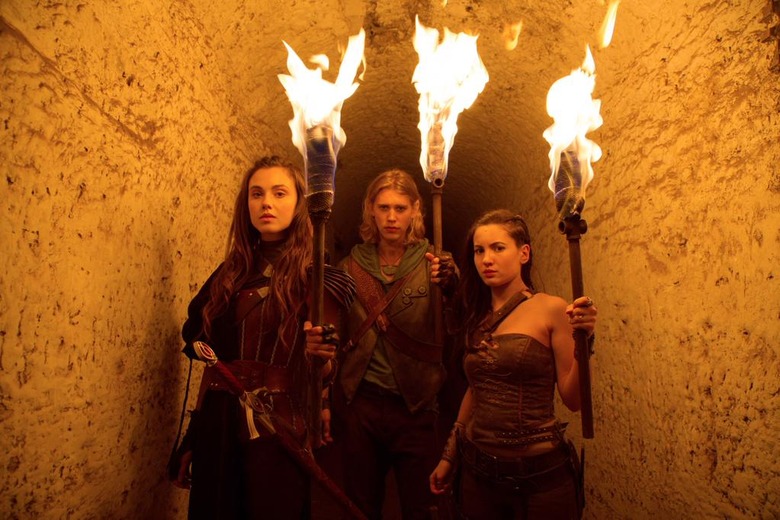 Amid all the Miley Cyrus weed jokes, the Taylor Swift wins, and the #viral #unscripted #moments at last night's VMAs, MTV debuted the first trailer for The Shannara Chronicles. Based on the novels by Terry Brooks, the fantasy drama unfolds centuries after a nuclear holocaust has wiped our current civilization off the map.
At the center of the story are three heroes — Elven princess Amberle (Poppy Drayton), human Eretria (Ivana Baquero), and half-elf, half-human Wil (Austin Butler) — on a quest to save the world from an evil demon. Watch The Shannara Chronicles trailer after the jump.
Here's the first full The Shannara Chronicles trailer from MTV.
Brooks' Shannara series encompasses something like two dozen books published since the 1970s. The first season of MTV's The Shannara Chronicles is based on the second book published, 1982's The Elfstones of Shannara.
It sounds like a complicated tale, but it seems to be in good hands. Former Smallville showrunners Miles Millar and Al Gough developed the series, and Jon Favreau serves as executive producer. For his part, Brooks, who's already seen multiple episodes, seems happy with the results. "It's really good," he told Paste in July, while acknowledging that he might be "somewhat biased."
The Shannara Chronicles premieres January 2016 on MTV.
Coming to MTV in January 2016, 'The Shannara Chronicles' is a new TV series based on the best-selling fantasy novels by Terry Brooks. Set thousands of years after the destruction of our civilization, the story follows an Elven Princess, Amberle, a half-human half-elf, Wil, and a human, Eretria, as they embark on a quest to stop a Demon army from destroying the Four Lands.
'The Shannara Chronicles' stars Poppy Drayton, Austin Butler, Ivana Baquero, Manu Bennett and John Rhys-Davies. The series is executive produced by Jon Favreau, Al Gough, Miles Millar, Dan Farah, Jonathan Liebesman and author Terry Brooks.