Watch: Gamora's Origin Story From The 'Guardians Of The Galaxy' Animated Series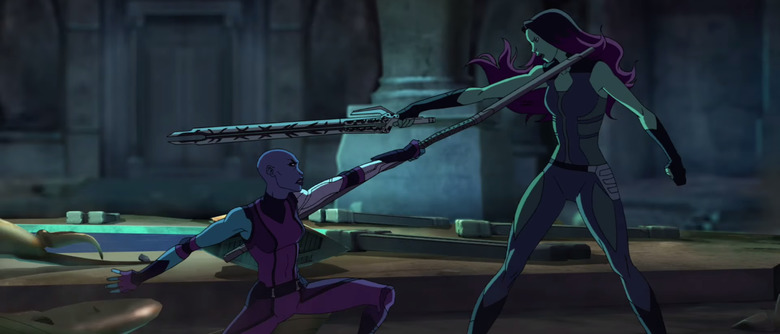 For the past month, Disney XD has been teasing its upcoming Guardians of the Galaxy animated series with origin story shorts focused on each of the Guardians. First we saw Star-Lord's, then Groot's, Rocket's, and Drax's. And now, last but certainly not least we have Gamora's.
If you saw James Gunn's movie, you already know her history in broad strokes: She's the adopted daughter of Thanos, who killed the rest of her race, and she eventually decides to betray him. But the animated Gamora origin story adds more detail to that biography, and even includes a fun cameo by another Guardian. Watch the video after the jump. 
Marvel unveiled the Gamora origin story on YouTube.
As we've noted before, these animated shorts are not part of the Marvel Cinematic Universe. That said, there's still a lot we don't know about Gamora and these videos fill in some of those blanks in a satisfying way. We get a better sense of what Gamora's relationship to her adopted family might have been like before the events of the film, and what specifically may have inspired her to betray them. All this new info is interesting to consider, even if it's not technically MCU canon.
Disney XD's animated Guardians of the Galaxy series premieres September 26. The voice cast includes Will Friedle(Star-Lord), Trevor Devall (Rocket Raccoon), Kevin Michael Richardson (Groot), Vanessa Marshall (Gamora),David Sobolov (Drax the Destroyer), and James Arnold Taylor (Yondu).
Marvel's Guardians of the Galaxy follows the newly-formed team who finds a strange artifact keyed only to the DNA of Peter Quill. Upon opening it, Quill unleashes a treasure map leading to a powerful weapon known as the Cosmic Seed which is capable of giving birth to the next universe. It's up to the Guardians to find, protect and ultimately destroy the Cosmic Seed in order to keep it out of the hands of those who would abuse its power, from galactic big boss Thanos, to the conniving brothers the Collector and the Grandmaster, to a resurrected Ronan, to the ultimate trickster, Loki, in order to save the universe.