'Goosebumps' International Trailer Is A Mad Monster Party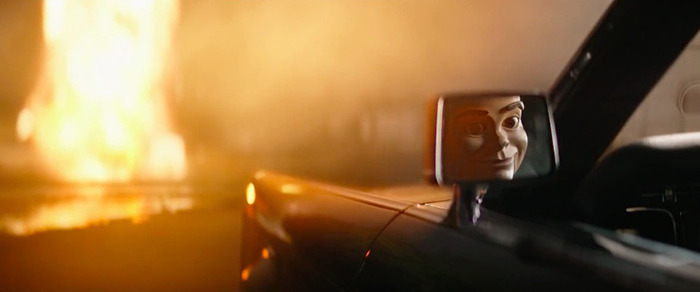 Every story ever told has a beginning, a middle, and a twist, according to Jack Black's fictionalized version of Goosebumps author R.L. Stine. In the film, the twist is that the Goosebumps books are actually prisons for the monsters created by Stine's imagination, and opening the books releases the monsters.
A new Goosebumps international trailer is just packed with those monsters, as the books are opened and dozens of creatures escape. There's a werewolf, a Yeti, the invisible boy, a giant preying mantis, and plenty more. Check out the footage and all the Goosebumps movie monsters below.
I've never read any of these books, as Stine began releasing the novels in 1992, after I was already in college, well out of the range of the original target audience. So I look at this not as an adaptation of any of the books, but simply as a film packed with gags and creatures and Jack Black's own brand of comedy. And it seems kind of charming in a slick, effects-heavy Chris Columbus movie sort of way.
That kind of movie usually isn't my thing, but monsters definitely are. I'll turn up just to watch a giant mantis run rampant in a small town. And I want to know what the heck is going on in the still we've used as the header above — that's an image that could be the basis for an entire movie, as far as I'm concerned.
Goosebumps opens on October 16. Rob Letterman (Shark Tale, Gulliver's Travels) directed. Trailer via Sony.
Upset about moving from a big city to a small town, teenager Zach Cooper (Dylan Minnette) finds a silver lining when he meets the beautiful girl, Hannah (Odeya Rush), living right next door. But every silver lining has a cloud, and Zach's comes when he learns that Hannah has a mysterious dad who is revealed to be R. L. Stine (Jack Black), the author of the bestselling Goosebumps series. It turns out that there is a reason why Stine is so strange... he is a prisoner of his own imagination – the monsters that his books made famous are real, and Stine protects his readers by keeping them locked up in their books. When Zach unintentionally unleashes the monsters from their manuscripts and they begin to terrorize the town, it's suddenly up to Stine, Zach, and Hannah to get all of them back in the books where they belong.