'The Walking Dead' Web Series Will Put Zombies On A Plane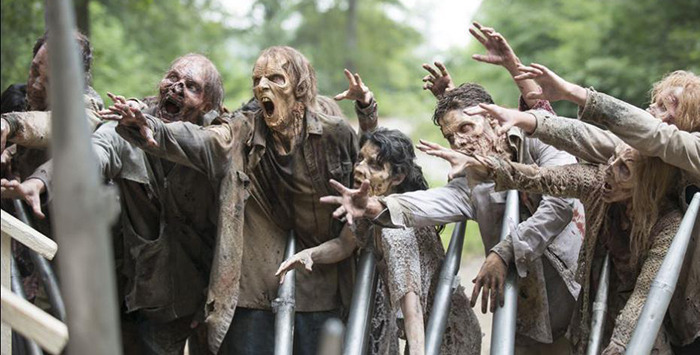 We've heard over and over that the characters from The Walking Dead won't cross over with those in spin-off/prequel show Fear the Walking Dead. But there is something happening with the timelines of the two shows, and now we have word of a new intersection between the series.
A special web series will take place during the Fear timeline — that is, in the earliest days of the walker outbreak. But it will be a little more walker-centric, as the series takes place on an airplane as walkers attack passengers.
EW has the report. The site's language is a bit confusing, calling this as-yet-untitled thing both a one-off special and a web series. It's basically a half-hour special that will be broken up into chunks that will air both online and during commercial breaks for The Walking Dead.
Most of the details of the series are unknown, but here's one thing we do know: one character who survives the in-flight attack will become a cast member of Fear the Walking Dead season 2.
We don't know who that character is or who will play the role, and we don't even know the title of this special / web series, or details of the flight. Since one of the passengers becomes a Fear the Walking Dead cast member eventually, it is probably headed to Los Angeles.
We also don't know how many chapters the 30-minute special will be broken into, or precisely when they'll air. In fact, that may not all be decided yet; AMC reps tell Variety that a lot of decisions are still being made on that front. This isn't the first Walking Dead web series, but it does seem like the highest-profile one AMC has planned out.
The Walking Dead returns on October 11 for it's sixth season, with the real impact of the mysterious Wolves tribe being felt. Meanwhile, the new series Fear the Walking Dead recently debuted and is airing weekly now. It had a record viewership of 13.3 million viewers. This Walking Dead special will be produced by Fear showrunner Dave Erickson and co-executive producer David Weiner.