'Star Wars: Rogue One' May Be An Ultra-Widescreen Spectacle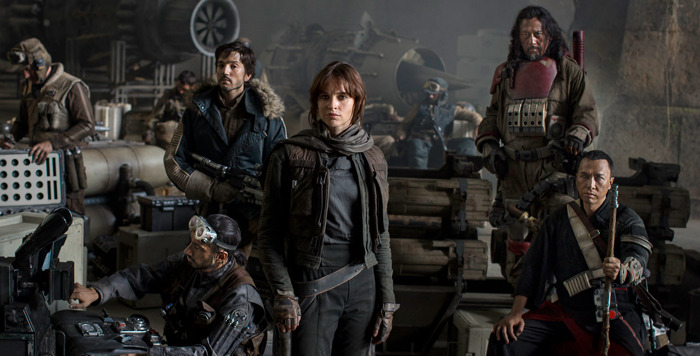 Star Wars has long been a film series that helped push technology forward, beginning with the original 1977 film. That movie was a pioneer in visual effects, with the first large-scale use of motion-control camera systems, and also helped push Dolby Stereo into theaters. But one of the new Star Wars films might be using a fusion of old and new gear to create its own spectacle.
There are reports that Star Wars: Rogue One will be using the same anamorphic Ultra Panavision 70 lenses that Quentin Tarantino and Robert Richardson
on The Hateful Eight, lenses which prior to that movie hadn't been used in decades. Rogue One probably won't use 65mm film, as Tarantino's movie did, but a union of those lenses and the new Arri Alexa 65mm digital camera to create the widest Star Wars spectacle we've yet seen.
pushes the story forward, though we first hear (and commented on) it months ago when
reported that Rogue One cinematographer Greig Fraser would be using the Ultra Panavision 70 lenses on Rogue One.
As far as we know, however, Rogue One isn't shooting on film, but is using the new Arri Alexa 65 large-format 6K digital camera for at least some sequences. That's the same system
The Revenant, and which is also the base unit that was customized to be the new
used for parts of Captain America: Civil War.
So what's the appeal? We talk a lot about the advantages of 65mm film and large-format IMAX film, and essentially it all means that you've got a larger surface area to capture the image, so the resulting footage is particularly fine and detailed, especially when blown up to cinema or proper IMAX size.
This Alexa 65 is an attempt to create a digital camera that has the same effect, but with all the advantages of digital. In the end you may not see much of a difference on regular cinema screens, but if you catch Rogue One in IMAX (which, given the release plan for The Force Awakens should absolutely be a possibility) the advantages of the Alexa 65 image could be spectacular.
The key point here is really the lenses, since a camera is really only as good as the lenses mounted on it. There are two basic lens types, "spherical," and "anamorphic." Spherical lenses are basically the sort of lens you'd have on any regular camera. Anamorphic lenses stretch the image vertically in order to use more of the film surface area.
The image below shows a film frame with a spherical lens capture (and optical soundtrack area) on the left, and the anamorphic on the right. The one on the right uses far more film surface area, and so captures more information. During projection, anamorphic lenses stretch out the image to remove the vertical distortion.

Anamorphic cinematography is also associated with widescreen cinema, as its popular use came about as companies sought ways to create ever-wide images on the cinema screen without having to install all-new projection equipment. The compression created by an anamorphic lens allows a widescreen image to be captured on a standard film frame. What you get is typically Cinemascope, with a 2.35:1 ratio.
The Ultra Panavision 70 lenses used by Robert Richardson on The Hateful Eight yield an extremely wide aspect ratio of 2.76:1 when used with a 65mm capture area, which is quite a bit more wide than the widest standard anamorphic widescreen ratio of 2.39:1.  The result is an unusually detailed ultra-widescreen image.
Our current standard for really big cinema is the full-format IMAX, but the effect here is to go really wide, rather than closer to square as IMAX does.
You can see the result in The Hateful Eight trailer
, which shows the ultra-widescreen image. Now imagine that projected on a massive screen... then imagine the same ultra-widescreen effect used for the landscapes and battles of a Star Wars film.
And since we've heard that Rogue One also wants to be, in some ways,
the most grounded Star Wars film yet
, that's an interesting contrast. Ultra-widescreen images could really push a sense of unusual spectacle even as the core characters and storytelling remains a bit rooted in "reality."
***
Rogue One stars Felicity Jones, Riz Ahmed, Diego Luna, Donnie Yen, Jiang Wen, Mads Mikkelsen, and Alan Tudyk. It opens on December 16, 2016.