'Youth' Trailer: Michael Caine And Harvey Keitel Aren't Getting Any Younger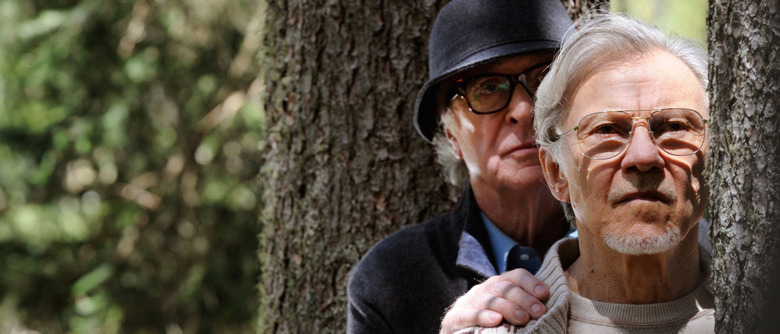 Fox Searchlight is on a roll this week. Amid all the Star Wars, Civil War, and Suicide Squad hype, they managed to capture our attention with the uplifting He Named Me Malala trailer, and now again with Paolo Sorrentino's gorgeous Youth trailer.
Michael Caine and Harvey Keitel star as best friends Fred and Mick, who go on a vacation to the Swiss Alps with Fred's daughter Lena (Rachel Weisz). While Mick's still plugging away at his final screenplay, Fred's a renowned orchestra composer who's entered retirement — but then Fred gets an invitation to perform for Queen Elizabeth II. Paul Dano and Jane Fonda also star. Watch the Youth trailer after the jump.
Fox Searchlight debuted the Youth trailer on YouTube.
There are some funny moments here, and Last Vegas-worthy shots of older guys ogling beautiful young women, but for the most part this looks like an emotional, even melancholy affair. Youth got warm reviews at Cannes earlier this year (though TheWrap notes there were some boos, but that's kind of a Cannes tradition). It's clearly gorgeous to look at, and it's got a bang-up cast exploring rich themes. You could do worse as a palate cleanser before diving into all that Force Awakens madness.
Youth arrives December 4.
From Paolo Sorrentino, the director of Italy's Oscar foreign language winner THE GREAT BEAUTY comes YOUTH, about two longtime friends vacationing in the Swiss Alps. Oscar winning actor Michael Caine plays Fred, an acclaimed composer and conductor, who brings along his daughter (Rachel Weisz) and best friend Mick (Harvey Keitel), a renowned filmmaker. While Mick scrambles to finish the screenplay for what he imagines will be his last important film, Fred has no intention of resuming his musical career. The two men reflect on their past, each finding that some of the most important experiences can come later in life.