'Star Wars: The Force Awakens' Footage: Finn Readies His Lightsaber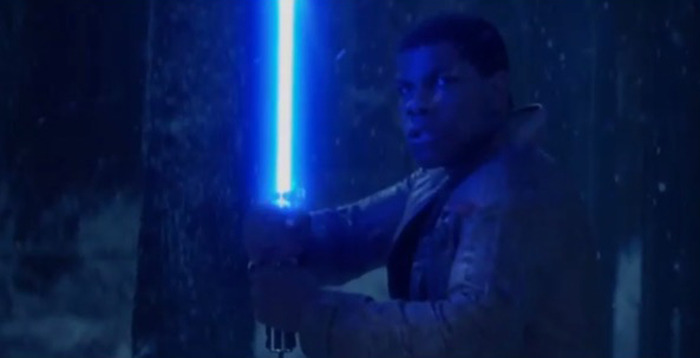 Here's a bit of new Star Wars: The Force Awakens footage, and despite being brief in length there's a powerful sight here. Finn, played by John Boyega, ignites his lightsaber as he stands in what appears to be the same forest in which we've seen Kylo Ren readying for battle. There's a bit of additional footage in this brief preview, too; watch below.
So, a few things here. One is that the music heard here seems to be new. Whether it is from the new John Williams score or not is uncertain, but we're betting that it is. The voice-over, which is from Andy Serkis's character Supreme Leader Snoke, also sounds different from what we heard in the initial teaser.
Also, yeah, freak out (again) about the idea of a lightsaber battle in the snow, especially as we see how the snowflakes play upon Finn's saber, and the way ILM gets to play with lighting the snow with illumination from the saber blades.
And here are some comments via Da7e on Twitter, which have some possible spoiler info. Highlight the following text to read details if you'd like: The first shot features General Hux speaking to First Order troops outside the Starkiller Base, in a shot we've seen. In the second shot, "Rey sees First Order's new weapon in action right before Kylo Ren tracks her to Maz Kanata's hideout." The shot of Kylo Ren takes place as he attempts to make his escape after doing something particularly nasty. And then the Finn shot comes as "Finn attempts to stop Kylo from fleeing the planet." [End possible spoilers]
Also, this is Instagram's way of announcing that users can post photos and videos in ratios other than the square Instagram format. This The Force Awakens footage is the first widescreen video released on Instagram. Yay? Now let's see it in HD, please.
J.J. Abrams directs Star Wars: The Force Awakens, which stars Harrison Ford, Mark Hamill, Carrie Fisher, Adam Driver, Daisy Ridley, John Boyega, Oscar Isaac, Lupita Nyong'o, Andy Serkis, Domhnall Gleeson, Anthony Daniels, Peter Mayhew and Max Von Sydow. Kathleen Kennedy, J.J. Abrams and Bryan Burk are producing with Tommy Harper and Jason McGatlin serving as executive producers. The screenplay is by J.J. Abrams & Lawrence Kasdan.Star Wars: The Force Awakens releases in U.S. theaters on December 18, 2015.